With the full release of Battlefield 5 rapidly approaching, DICE has revealed when fans can expect to get their first dose of post-launch content. The first chapter of the new Battlefield 5 Tides of War post-launch schedule will be launching on the 4th of December, just a few weeks after the game's own release date. The first chapter brings with it a new map, mode, vehicle cosmetic customisation, and The Last Tiger; the game's fourth and final War Story.
Battlefield 5 Tides of War Chapter 1 Release Date
Battlefield 5 is due for release on the 20th of November, although it is already available through early-access to various groups of gamers. While there is plenty of content coming in the game at launch, with 8 maps, the new Grand Operations mode, etc. it seems that players won't have long to wait before getting more. The first "chapter" of the Battlefield 5 Tides of War will come just two weeks after launch. The Tides of War is a new structure for DICE's post-launch support. Every couple of months, a new chapter will begin, heralding new in-game content. The first three chapters have been detailed so far.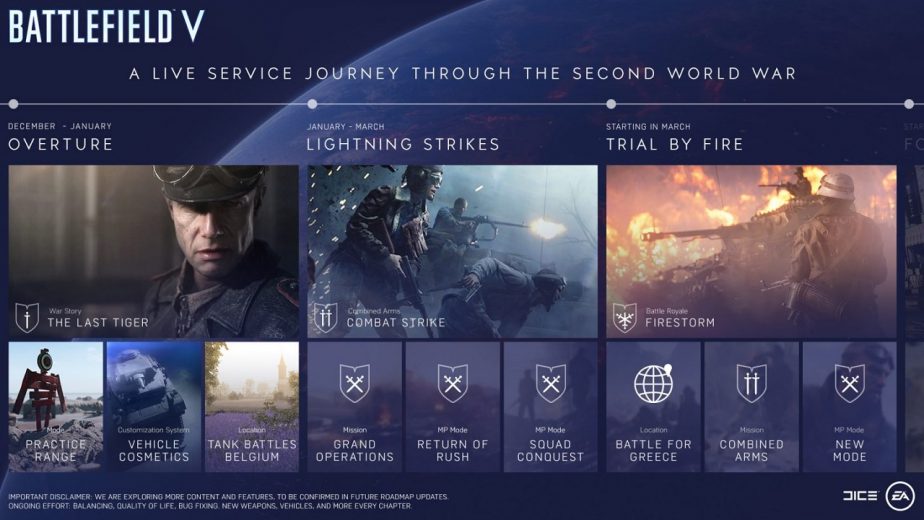 Chapter 1 of the Tides of War will launch on the 4th of December, according to DICE's most recent Reddit update. The first chapter is hardly lacking for content. The game's final War Story is its headline feature; The Last Tiger, which will be the first War Story to be told from a German perspective. Additionally, chapter 1 includes the Practice Mode game type, giving players a space to practice and test for multiplayer.
Chapter 1 also brings vehicle cosmetic customisation options to the game, filling a missing space in The Company. At present, players have progression systems for weapons and vehicles, and cosmetic options for weapons and soldiers, but none for vehicles. Additionally, a ninth map will be added to the game; Panzerstorm.