On Wednesday, the latest edition of the NHL 19 Team of the Week dropped for gamers to challenge. Each week brings new players who have performed above and beyond in the real-life NHL games. Among the star players this week are Johnny Gaudreau, Brent Burns, and more. Here's the latest on who is part of NHL 19 Team of the Week 17 as you'll quickly realize one hockey team is really represented.
NHL 19 Team of the Week 17: Gaudreau, Burns headline
The Team of the Week has arrived on the EA Sports' NHL website before, but that stopped as of Week 13 a few weeks ago. However, the latest lineup arrived in the Hockey Ultimate Team (HUT) aspect of NHL 19 earlier on Wednesday afternoon. The 11 players comprising the latest NHL Team of the Week are headlined by a trio of 90-rated stars.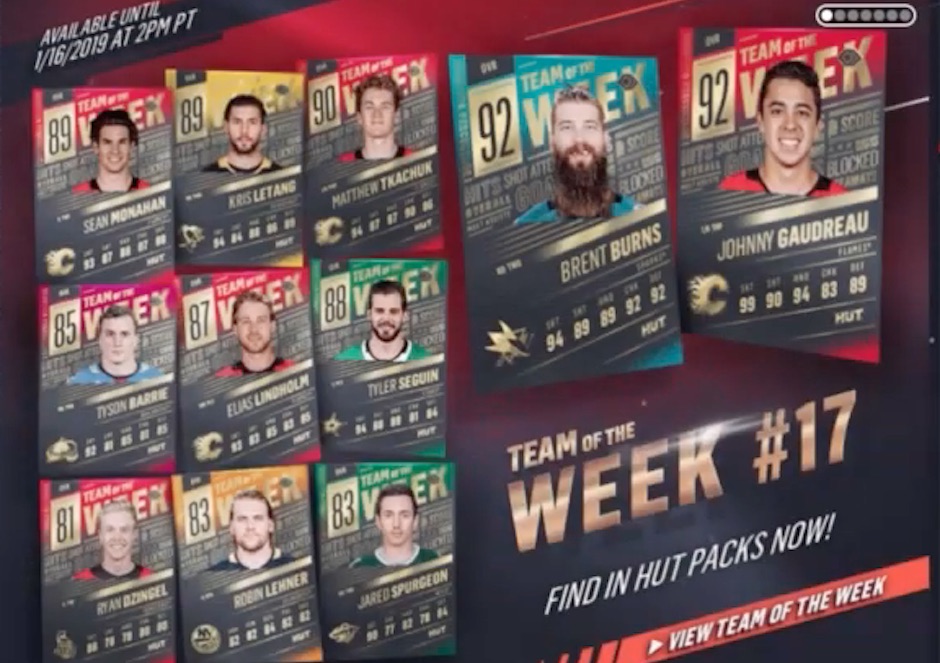 The Calgary Flames' Johnny Gaudreau and San Jose Sharks' Brent Burns each come with 92 overall ratings making for some stellar cards to look for. Then there's another Calgary 90s rated star. Matthew Tkachuk is a 90 in this latest pack. There's even more though. Here are all 11 players, ranked from best rating to worst.
Brent Burns – Sharks (92)
Johnny Gaudreau – Flames (92)
Matthew Tkachuk – Flames (90)
Kris Letang – Penguins (89)
Sean Monohan – Flames (89)
Tyler Seguin – Stars (88)
Elias Lindholm – Flames (87)
Tyson Barbie – Avalanche (85)
Robin Lenner – Islanders (83)
Jared Spurgeon – Wild (83)
Ryan Dzingel – Senators (81)
NHL 19 Team of the Week 17 features plenty of Flames
As seen above, the Calgary Flames really came through for the Team of the Week 17. They make up about a third of the entire TOTW lineup due to a number of great player performances. It makes sense too, as this team has moved right up to first place in the Western Conference recently. In just four games, Gaudreau had five goals and 11 points. It's believed he could surge past his previous career numbers and challenge for Art Ross Trophy or wait for it — the MVP award.
Tkachuk hasn't been too shabby either. Over the past four games, he's recorded a goal and three assists, while Monohan had two goals and four assists in that stretch. Then there's Lindholm. He also registered two goals and four assists to help Calgary's surge.
Gamers can look for the latest NHL 19 TOTW representatives in HUT packs. They became available as of 2 p.m. Pacific Time (5 p.m. ET) on Wednesday and will stay available through next Wednesday. That's when the 18th edition of the team will officially go live. Also, make sure to check out details about the ongoing EVO 2 players that are available in packs.
Get more of the latest information and news for the hockey game over at our NHL news page.