NVIDIA has had a major presence at CES 2019 in the last couple of days. The company's new RTX series of graphics card certainly stole the show with several cinematic demonstrations, highlighting the capabilities of ray tracing. One such demonstration was recorded in Battlefield 5 and showed the impressive visuals made possible by RTX ray tracing. However, NVIDIA also released a standalone cinematic demonstration; Project Sol Part 2.
Project Sol Part 2: NVIDIA's CES 2019 Ray Tracing Demonstration
The first Project Sol cinematic was released by NVIDIA three months ago. Both cinematics feature a man donning a suit of white and gold armour in a manner very reminiscent of Iron Man. While the first cinematic takes place solely within a facility, the second sees the character fly out over a Mars-like environment. As a technical demonstration of ray tracing, the cinematic intentionally features plenty of reflective surfaces; highlighting the ability of the RTX graphics cards to render detailed reflections in real-time. Indeed, the commentators even make a point to state that the cinematic is in real-time. To demonstrate, they alter the lighting intensity and hue, as well as the colour palette of the armour in several ways.
"Everything you just saw, everything you saw, all the lightings, all the shadow, all the animation, everything," says the demonstration presenter; "all the ray tracing – 100% of it was in real-time. This is not a movie, this is next-generation graphics; this is what RTX enables."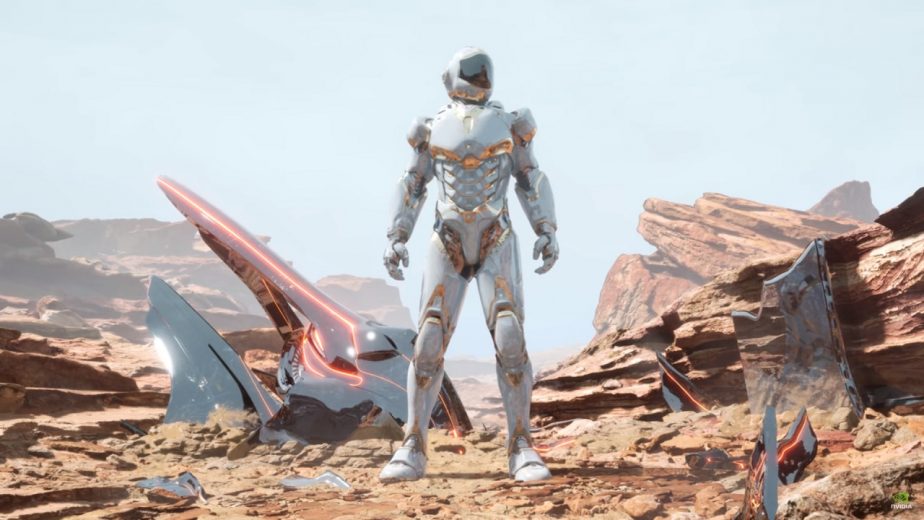 While ray tracing is the headline feature of the new RTX series, the cards have numerous other advancements and features to improve graphical performance. The presenter even echoes Todd Howard's now infamous words; "It just works," although in this case it seems as though it's actually correct. At present, there are two RTX cards available; the RTX 2080 and RTX 2080 Ti, while the new RTX 2060 will launch very soon. NVIDIA recently announced a new bundle deal; customers who buy the new 2060 can get either Battlefield 5 or Anthem for free. Customers who buy one of the 2080 or 2080 Ti cards, on the other hand, can get both games for free with their purchase.