Rockstar Games have officially got to announcing the special editions they promised us last month, adding Red Dead Redemption 2 to the Xbox Store and PlayStation Store now available for immediate pre-order. Yesterday, pre-order bonuses were accidentally listed early by Microsoft, including a War Horse item (which was originally a bonus for the first Red Dead Redemption).
All pre-orders will receive this War Horse – now confirmed to have extra stamina and better stats compared to other horses. This practically confirms the ability to have better and much faster horses as you progress throughout the game, if not customize them. Every edition also includes the Outlaw Survival Pack which has in-game items to replenish health, and other stats. If you digitally pre-order you get immediate access for up to GTA$2 million in GTA Online. Not much is known about the game right now, other than its complete revamp of AI and 1000 person team.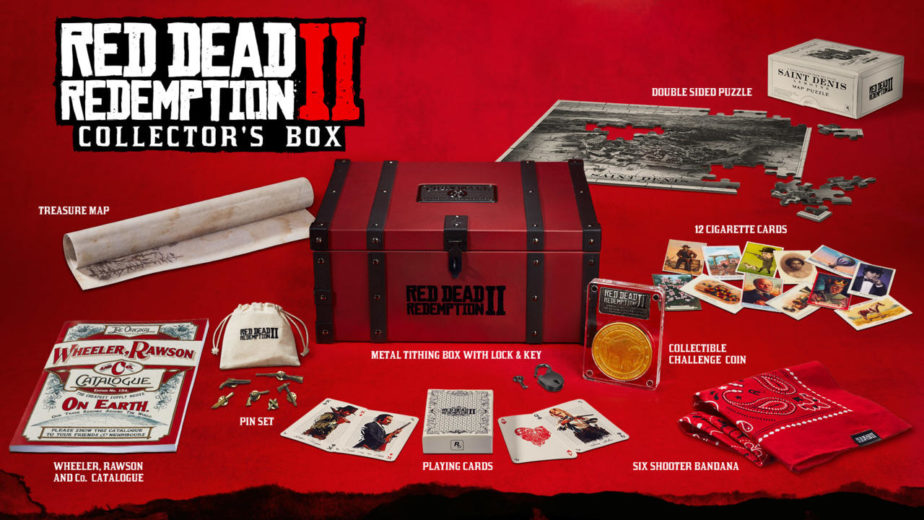 Rockstar also announced the Special Edition of the game, which will include extra story content, specifically a bank heist mission and additional cosmetics and items in-game such as outfits and horses. If you buy this edition physically, you get an exclusive world map. This isn't the only edition, however, as the Ultimate Edition (the most expensive at $99) will bring all the extras that the Special Edition includes, and also a racehorse and saddle – this is only for online it seems, but will be on top of the Special Edition's story mode horse. Owners of this edition will also get their hands on free access to the survivor camp theme and online rank bonuses. Three weapons for free at gunsmiths will be included and a gunslinger outfit, with free access to additional weapons in the online mode of the game. The ultimate edition, if ordered physically, includes a steelbook case.
While there isn't a collectors edition – there is a collector's box. It does not include the game, but at $99 you get a gold-colored buffalo coin, a wooden jigsaw puzzle, a bandana, two collectible card sets, six pins and a lock and key for the box itself. This is for those who are hardcore game collectors and do not care about the price. Rockstar tend to do this with collector's editions, focusing on getting video game sales digitally by including all the pre-order bonuses for special editions other than that. While it isn't a surprise, a hefty $99 for an edition without the game is still quite a lot to consider, but we're sure if you don't want it – don't buy it. It releases October 26 on PS4 and Xbox One.