Red Dead Redemption 2 has been in a news drought ever since the announcement of its delay back in January 2018, and fans have been completely devoid of actual information, other than a recent leak of an artbook that was confirmed for a release of October 30, 2018 – just four days after the intended release of the game. Today, Rockstar Games, out of the blue, announced that on Wednesday, May 2, 2018 at 11AM Eastern, Red Dead Redemption 2's Third Trailer will release on their site and social media.
The news comes very suddenly and without much teasing – but this might mean something amazing. Game Informer's cover will be unveiled tomorrow, which is almost certainly going to be Red Dead Redemption 2 at this point. Rockstar Games are finally coming out of their shell and beginning the marketing process. It's finally here, after months of waiting and hearing nothing back.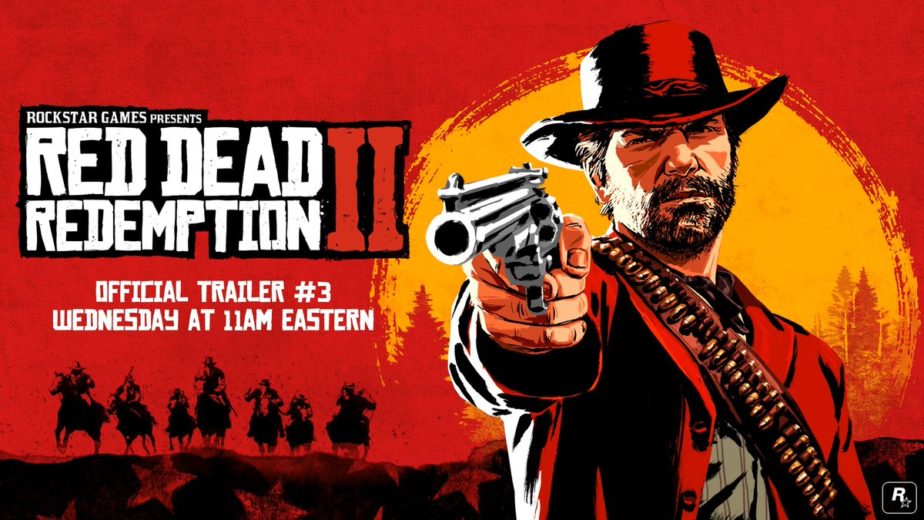 Rockstar Games, to ease the anxiousness of us waiting for this Wednesday, dropped a brand new piece of artwork which will most likely be the final cover art for the game. The cover art features a character which might actually be a different one to Arthur Morgan, the supposed protagonist from the second trailer. The character has a black beard, which is opposed to Morgan's shaved face. Of course, this could be John Marston, or most likely Arthur Morgan with a beard. It's not impossible though – this is a prequel, of course. The young Marston might feature as the actual protagonist. However, there might be multiple playable characters, like Grand Theft Auto 5, which featured three, but only showed Michael in the first reveal trailer.
This is the best thing to hear right now – many fans, including us, were getting fears that the game would undergo yet another delay, even speculating about it and adding up the evidence. In the end, we've been proven wrong, and it seems that Red Dead Redemption 2 is ready to go and hit the marketing bandwagon. We'll be sharing every single piece of brand new information throughout the weeks to come, especially when E3 hits and Take-Two begin to use it to their advantage.
Red Dead Redemption 2's now certain release date of October will spell trouble for other franchises such as Call of Duty, who actually moved their release date – which has been in November for almost a decade – behind the game in order to not suffer the Rockstar Effect. With Grand Theft Auto V being the third best-selling video game of all time, the most profitable commercial entertainment product of all time, and the fastest selling entertainment product of all time, it seems that other publishers are terrified.
Watch out, because Rockstar Games are coming.