A cute Saints Row Skin Pack is now available in Minecraft. This crossover is somewhat sweet and weird at the same time. Nevertheless, Minecraft has the tendency to feature skins from characters of various other games, movies, and even TV Shows. It was about time to bring the Saints Row world into its very unique world.

Minecraft loves placing your favorite characters into its world no matter where they come from. It has featured many different Skin Pack of various characters throughout the years, such as DC's superheroes, The Simpsons, Toy Story, Five Nights At Freddy's and many more. Besides, is it not better when you get to play the game looking like the favorite character you like? It definitely makes the game more fun.
The Saints Row Skin Pack is exceptional. The cutest Saints Row thing you will ever see. Even its name is adorable: "Sants Ros." Sants Ros is a skin pack that contains eight Saints Row franchise skins. You will see many familiar faces and names in there including Johnny Gat, Shaundi and more. The package includes skins inspired by the first two Saints Row video games.
Additionally, it brings some new enemies along with it picked out right from the first two Saints Row titles. You will find familiar enemies you might have loved or hated such as Vice Kings, Ultor or the Brotherhood. Moreover, the primary color of the pack is, of course, the purple one. Rings a bell?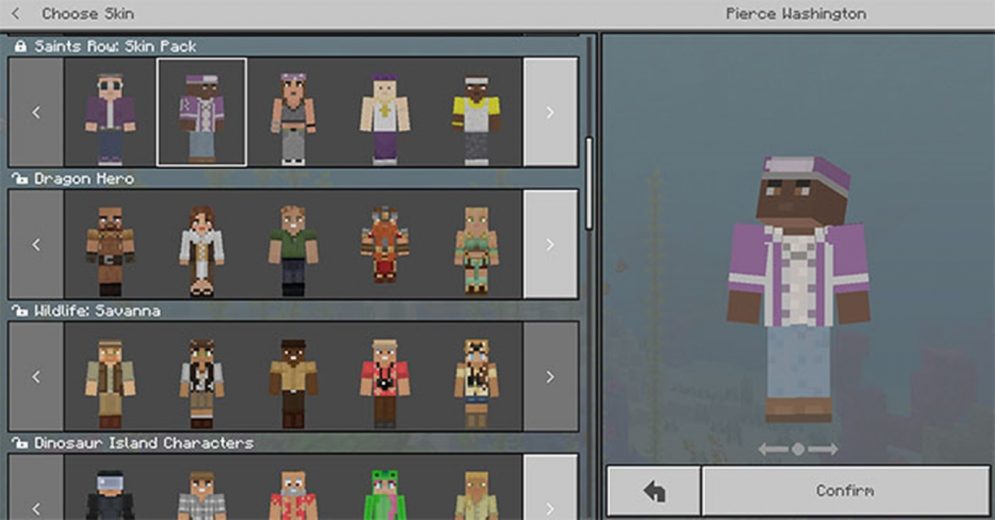 If you are interested in downloading and installing the awesome Saints Row skins, you can click here to get the zip file for the Skin Pack. After downloading the Skin Pack, you will have to open Minecraft and click on the skin selector. Afterward, you just pick the skin you want to use and start playing and build your world. You can maybe put them in a Saints Row type of Minecraft world. Just maybe…