While the press conferences may have wrapped, more and more gaming news continues to trickle out of this year's E3 event, and there's one bit of news that should be of special significance for Soul Calibur fans. Bandai Namco has released a new story trailer for the upcoming fighting game entry Soul Calibur 6, a trailer which also confirms that the game will be launching on October 19, 2018.
A litany of familiar faces shows up in the trailer, including Mitsurugi, Sophitia, Ivy, Kilik, Maxi, Taki, Siegfried, Xianghua, and Nightmare. The trailer also features one of the game's brand new fighters, a villainous-looking dual-sword wielder named Grøh. Soul Calibur 6 will serve as a sort of prequel/retelling which focuses on key events from the original Soul Calibur (hence the old-school roster), but Bandai Namco promises the new entry will also expand upon the series' existing lore. Judging from what's shown in the trailer, it looks like players will get to witness iconic moments such as Siegfried's transformation into Nightmare and the bond of friendship forged between Kilik, Xianghua, and Maxi.
The trailer also confirms that Soul Calibur 6 will be getting both a Deluxe Edition and a Collector's Edition. The Deluxe Edition will include a copy of the game, a special metal case with a built-in soundbox, a copy of the game's soundtrack, and a season pass which grants access to five separate pieces of DLC (two armor packs and three additional fighters). The season pass will also grant access to a bonus fourth DLC fighter who is only available via the pass.
As for the Collector's Edition, it too will come with the game, the soundbox case, and the soundtrack, but it will also include a special Collector's Edition box, a 120-page art book, and a 12-inch collectible figure featuring Sophitia. Sadly, it doesn't look like the season pass is included in the Collector's Edition, at least going by the screenshots shown in the trailer.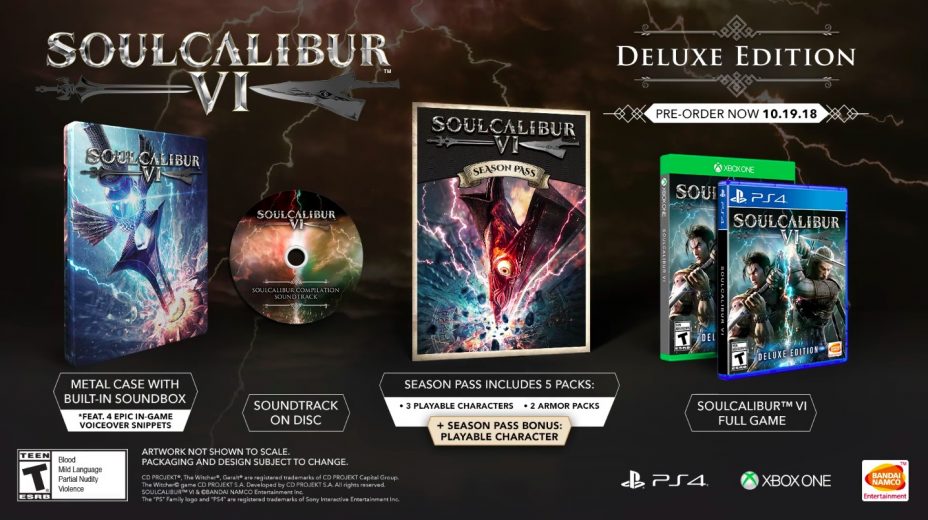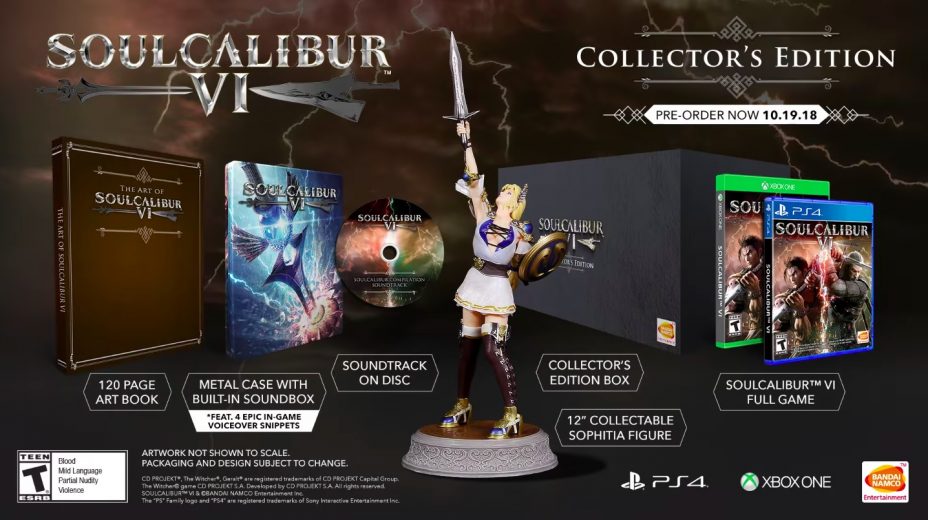 Soul Calibur 6 will launch on October 19 for Xbox One, PlayStation 4, and PC. For more E3 fighting game news, be sure to read about how Super Smash Bros. Ultimate will contain every single Super Smash character in the series' history, and about the upcoming Jump Force game that will feature characters from several different Shonen Jump franchises including Dragon Ball Z, Death Note, Naruto, and more.