Hours ahead of Bethesda's own E3 presentation, Todd Howard made a surprise appearance at the Microsoft presentation. The longstanding Bethesda director took fans by surprise when he took the opportunity to debut the reveal trailer for Fallout 76. While Bethesda will likely show more of the upcoming game at their own event, the surprise debut did answer several questions about the game.
The trailer revealed that the game would be available to pre-order on June 15th.
Todd Howard precised the trailer with a brief description of Fallout 76. He clarified that Fallout 76 would be set in "the hills of West Virginia", and that the game would be four times the size of Fallout 4. Although Fallout 4 was not extraordinarily large, the huge increase is very noteworthy. His statements suggested a very different wasteland to the ones Fallout players are accustomed to. Indeed, although few living creatures appeared in the trailer, several creatures did appear which seemed to be heavily mutated and unlike any enemies featured in past Fallout games.
Things That Have Yet to be Revealed
Although the trailer did not show any building, Todd Howard did make reference to "rebuilding America". It has been rumored that Fallout 76 would place an emphasis on building and crafting. Several characters passed by the camera during the trailer while carrying tools, rather than weapons. While they could theoretically be melee weapons, it's also possible that the game will feature actual building tools rather than Fallout 4's simple Workshop system. Although footage of Vault 76's interior appeared, it seemed to be the same footage that was used in the game's teaser trailer. The focus of the trailer was very much on the wasteland exterior.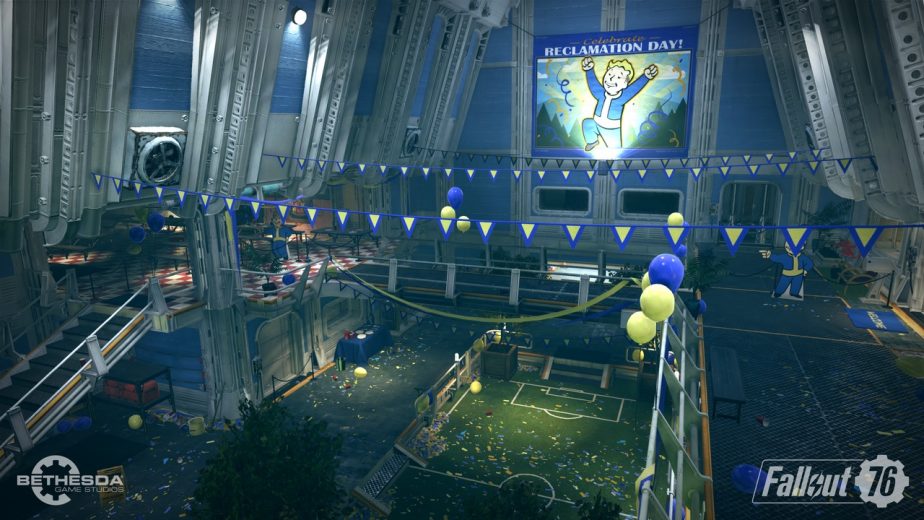 One important aspect of the game was not addressed at all; whether the game features online cooperative play. Indeed, that feature has been strongly rumored for weeks; a leak suggested that Fallout 76 would be an "online survival RPG". The reveal trailer mostly consisted of landscape footage, without showing much active gameplay. As a result, that information may be being saved for Bethesda's own presentation, perhaps for a gameplay trailer.