The Total War: Three Kingdoms release date is tomorrow, on the 23rd of May. With the game primed for release after its two-month delay, Creative Assembly has now revealed the exact release times across a variety of global time zones. Of course, the game is already available to pre-load on Steam. However, these times are exactly when the game will be officially available to play.
Global Total War: Three Kingdoms Release Times Have Been Revealed
Five specific Total War: Three Kingdoms release times have now been revealed by Creative Assembly. Of course, they're all actually the same time around the world. To start with, the game will officially release at 8:00 AM BST (UK time). This means that it will release at 3:00 AM EDT in New York and 3:00 PM CST in Beijing. Finally, the game will launch at 12:00 AM PDT in Los Angeles/Seattle, and also at 5:00 PM AEST in Sydney.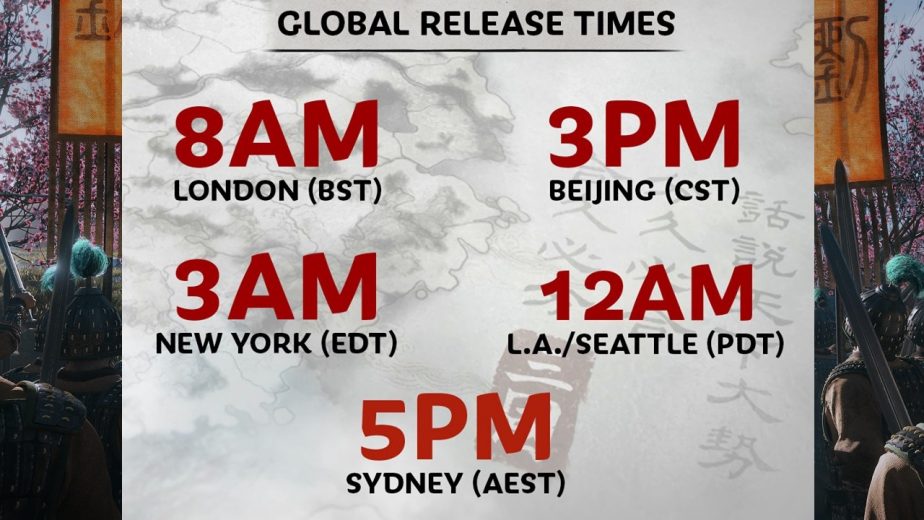 Of course, this is also the time that the day-one Yellow Turban Rebellion DLC will become available. This DLC is currently free for early adopters. As such, it's free for anybody who pre-orders the game or who purchases it within one week of release. The Yellow Turban DLC adds three new playable faction leaders, all of whom lead different Yellow Turban rebel factions; He Yi, Huang Shao and Gong Du. These characters feature in campaigns, but are only playable if you have the DLC.
Creative Assembly also recently released structural plans for their upcoming Three Kingdoms DLC. Although no specific details have been released for DLC, the studio has said that they plan to focus on 'Chapter Packs,' which will focus more closely on specific events and periods in Romance of the Three Kingdoms. They will introduce new characters, factions, and gameplay mechanics, and introduce different campaigns and starting positions which will vary from the core game.