Following yesterday's teaser, Creative Assembly has released the official trailer for The Shadow and The Blade, the next instalment of Total War: Warhammer 2 DLC. As the teaser suggested, this Lord Pack DLC does indeed feature Deathmaster Snikch for the Skaven. Plus, he's being paired with a true fan-favourite, the Dark Elves' Malus Darkblade. The new DLC will be launching on the 12th of December.
The Shadow and The Blade DLC: Deathmaster Snikch vs. Malus Darkblade
Following on from The Hunter and The Beast, The Shadow and The Blade will be the fourth Lord Pack DLC for Total War: Warhammer 2. In keeping with the format, it will include new content for two of the game's factions; the Skaven and the Dark Elves. In addition to the two new Legendary Lords, both factions will be getting three new units, three new Regiments of Renown, a new Lord, and a new Hero. The Skaven will even be getting a new Lore of Magic; the Lore of Stealth.
Of course, each of the new Legendary Lords will feature new campaign mechanics of their own to differentiate themselves from the other characters. Malus Darkblade, for example, has a unique starting position; although he starts with control of the city of Hag Graef, he also starts with a Black Ark far across the map. According to Creative Assembly, he will face a dilemma to keep both or sell control of Hag Graef early in his campaign. Darkblade also has the daemon Tz'arkan to worry about; the malevolent entity which possesses him. While he can relinquish control of his body to Tz'arkan during battle to greatly enhance his abilities, he will also have to regain control. The daemon will also provide him with new missions.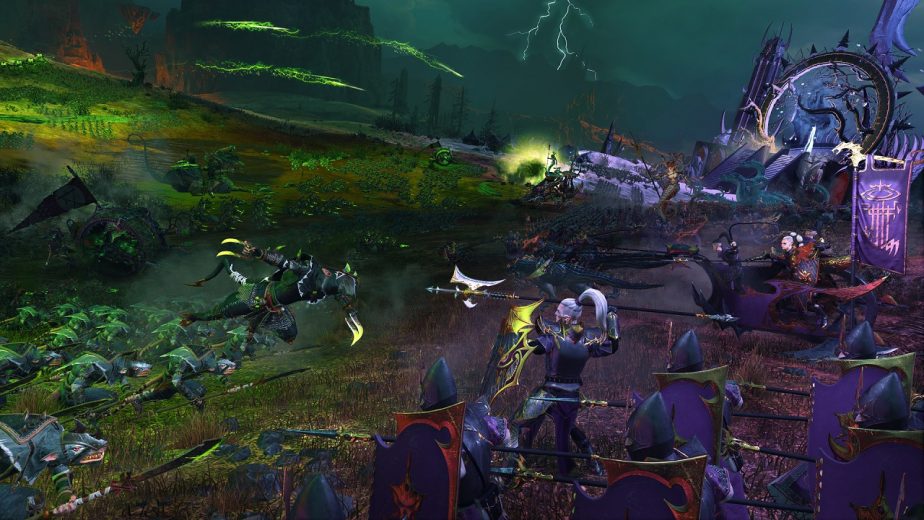 Deathmaster Snikch, on the other hand, who leads Clan Eshin, is a master of subterfuge and assassination. This is represented through his Shadowy Dealings mechanic. Any of his characters can perform Shadowy Dealings with 100% success on the campaign map. However, doing so will put them out of action for several turns. These "Dealings" range from thefts to assassinations to inciting full-blown rebellions. Plus, Snikch will also get access to "Greater Clan Contracts," a new form of mission, from the other Skaven clans. Completing them will provide an array of rewards, including a reduction to the cost of that clan's units.
Details are still scarce for the Free-LC release that will accompany The Shadow and The Blade. However, Creative Assembly have confirmed that it will add a new Bretonnian Legendary Lord, Repanse de Lyonesse. Something of an unexpected pick, more details about her inclusion are likely to be revealed closer to the release date.