The Battlefield 5 Rotterdam map was the primary feature of DICE's Devastation of Rotterdam trailer, released just prior to Gamescom 2018. The map is set in the Dutch city of Rotterdam, prior to the events of the Rotterdam Blitz. (Although there is another map in the game set just after, as well.) Recently, a Dutch travel blogger set out to compare the game's Rotterdam map with that of the real city to see how accurately the two match up.
How Accurate is the Battlefield 5 Rotterdam Map?
The comparison was done by a travel blogger named Zoe who runs a blog called Together in Transit. She recently posted a series of comparison photos, putting places in Rotterdam side-by-side with screenshots from the game. What's clear is that the developers at DICE certainly did their research. The layout of the map area is very accurate indeed, and some buildings have been carefully recreated. Of course, the vast majority of the map's buildings do not compare with the real-world buildings standing in the same place now; the Rotterdam Blitz levelled almost the entire city, after all.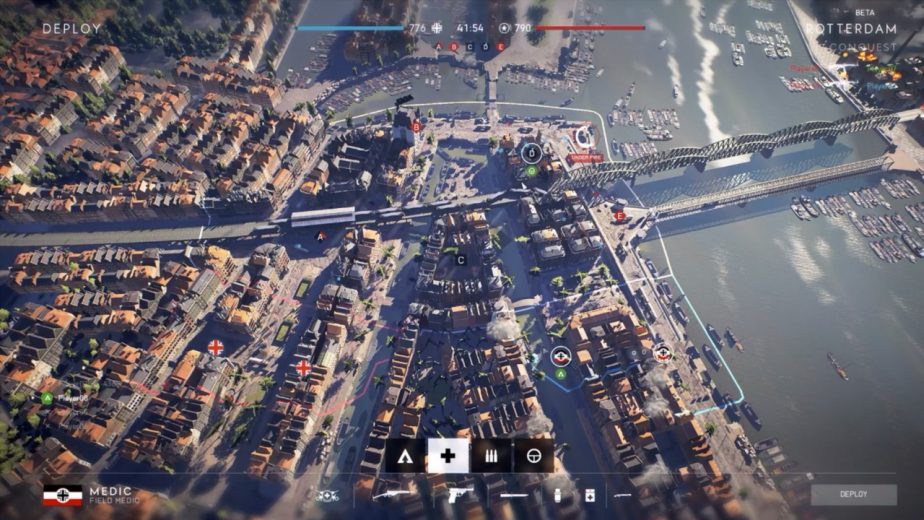 One of the only buildings to survive the blitz was Laurenskerk Church, which can be seen in Battlefield 5. According to Zoe, the stained-glass windows from the church survived the blitz unscathed; they had actually been removed from their frames prior to the bombing in order to protect them. After the war was over, the windows were put back in their places. Another building which survived the bombing partially was the Witte Huis; a building which draws the eye both in the real world and in Battlefield 5. It was actually the first high-rise structure built anywhere in Europe, and as testament to its survival of the blitz; there are still bullet holes which can be found in some of its walls. During the Battle of Rotterdam, Dutch snipers made use of the Witte Huis to overlook the city.
"I think it is impressive of DICE to have made the map so realistic," says Zoe; "the features of the map make it very recognisable and brings to life the 'old Rotterdam' from before it was bombed."