Coming soon as part of the Wild Appalachia DLC content launch is the first seasonal Fallout 76 event; the Fasnacht Parade. This event, which takes place in the town of Helvetia, allows players to help stage the event and eventually participate in it themselves. It features a host of outlandish masks and themed C.A.M.P. plans as event rewards.
What is the New Fasnacht Parade Fallout 76 Event?
"Each year," explains Bethesda, in their latest 'Inside the Vault' blog post; "since the founding of Helvetia in 1869, the townsfolk celebrated Fasnacht by donning fantastic masks and parading through the decorated town. The festivities culminated by burning an effigy of Old Man Winter on the bonfire to signal the end of winter. The townsfolk may be long gone, but dutiful bots have kept the party rolling every year – and they welcome your participation!"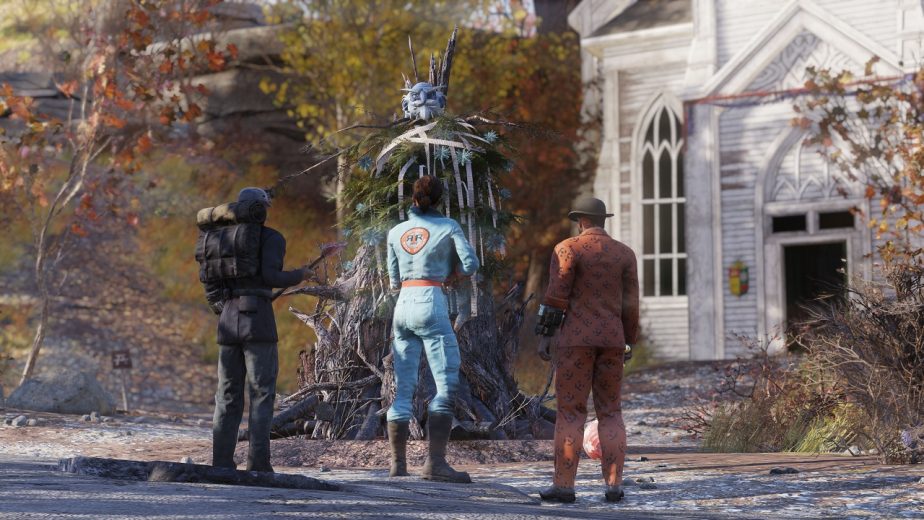 The town of Helvetia already features in Fallout 76. In fact, players can find references to Fasnacht and parade decorations there. However, the parade and related robots don't currently appear. It's unknown if this content was originally intended to feature at launch. Whatever the case, it will soon be available for everyone, for free as part of Wild Appalachia. The event is due to begin on the 19th of March, one week after the start of Wild Appalachia. It will be available until the 26th of March.
The Fasnacht Parade is a repeatable event quest which players can complete any number of times while it remains available. To begin, you'll need to speak to Helvetia's Master of Ceremonies. They will direct you to assist the town's robotic vendors to prepare for the parade; "You and your compatriots will be asked to assist with a variety of party prep duties that may have you stepping on stage to play a cheery tune," explains Bethesda; "choosing the perfect decorations, or exterminating some buzzing pests, among many other activities". Once the parade starts, you'll then need to protect it from "party crashers," until they reach the Old Man Winter bonfire to end the parade. Completing the quest earns players loot, including new parade masks.