With the reveal of the Fallout 76 2019 DLC roadmap, fans now have an idea of what to expect from the game in the coming months. Namely, three major DLC releases; Wild Appalachia, Nuclear Winter and Wastelanders. The first of these releases is coming very soon, beginning in mid-March, and Wild Appalachia will be introducing new mechanics, items, quests, focusing on PvE content. The first preview of this upcoming DLC was recently released by Bethesda, and it focuses on the new Brewing and Distilling mechanics.
Fallout 76 Wild Appalachia DLC Preview: Brewing and Distilling
The first release as part of Wild Appalachia, which spans several weekly releases, will arrive on the 12th of March. This will include a new quest called 'Wasted on Nukashine,' which begins near Vault-Tec University. According to Bethesda, players will; "relive the glory days of VTU's finest and discover the mischief they got up outside of the classroom. Your continued studies will lead you to a notorious speakeasy, introduce you to Biv – Appalachia's tipsiest robot, and teach you to craft the illicit Nukashine using the all-new Brewing Station."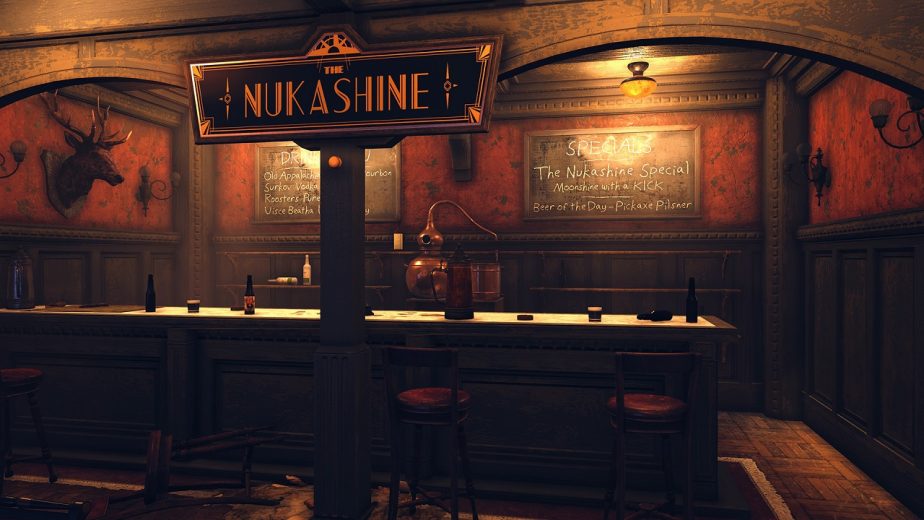 Brewing and Distilling is a whole new crafting system coming in Wild Appalachia. Players will be able to build the new Brewing Station at their C.A.M.P.; you can use this to craft a variety of home-made alcoholic beverages. Each of these comes with a different temporary buff, but also has its drawbacks. Some drinks will require fermentation in another new device; the Fermenter, which can also be built at your C.A.M.P.
The Drinks Available in Wild Appalachia
Players will be able to brew a variety of different beverages in Wild Appalachia, which fall into three categories; Wines & Spirits, Beers, and Mixed Drinks. Wines & Spirits require fermentation, and fermenting them for longer will transform them from "fresh" brews to "vintage," which boosts their effects. Bethesda highlights this with an example of "Firecracker Whiskey"; a beverage which will cause your melee attacks to deal fire damage both to your opponents and yourself. Brewed as a vintage, this effect will even apply to your ranged attacks!
Beers require fermentation, but don't have a vintage form. Mixed drinks, meanwhile, don't need to be fermented, you can simply drink them once you brew them. According to Bethesda, players will be able to speak to robot Biv each day for two repeatable daily quests involving the new mechanics.