On the latest installment of WWE Raw on Monday, May 20, fans were introduced to the brand new championship. WWE legend Mick Foley unveiled the WWE 24/7 Championship belt. Since the gaming community moves quickly it didn't take long for a creative designer to make one in the video game world. Now the new WWE 24/7 Championship is also available in the WWE 2K19 game.
What is the WWE 24/7 Championship belt?
The latest episode of Raw arrived a night after the epic Money in the Bank 2019 PPV which saw Brock Lesnar win the men's briefcase. It also featured the teaser announcement that Mick Foley would be on Raw to introduce the brand new title belt. He did just that, and it immediately had an inaugural champion. That first champion was Titus O'Neil, but soon after, Robert Roode defeated him via pinfall on the ramp. He attempted to escape Raw as the champion with some help.
As seen in the clip above, Roode's reign didn't last long. R-Truth pretended to come to the aid of Roode and hid him in a car trunk as a number of superstars went looking for him. After the coast was clear, Truth let Roode out of the trunk. A referee got out of the car and Truth knocked Roode to the pavement to pin him. So R-Truth took off as the reigning WWE 24/7 Champion, for now.
How to get the new belt in WWE 2K19
They don't really have a "24/7 rule" for the title defenses in WWE 2K19, but the belt is now available thanks to a creative designer. Gamers simply need to head into the WWE 2K19 Community Creations area of the game. From there, use the hashtag searches "24/7," "WWE," and/or "WHATSTHESTATUS." That should bring up this impressive new title belt created by @WhatsTheStatus on select consoles.
That particular championship belt design is one of many. On the PlayStation 4's Community Creations area, there are a number of the 24/7 belts available. Check out the screenshot below which shows different interpretations of the newest title belt. You can even assign it to its current owner, R-Truth and use it in Falls Count Anywhere or Backstage Brawl matches for a realistic simulation of the title defense.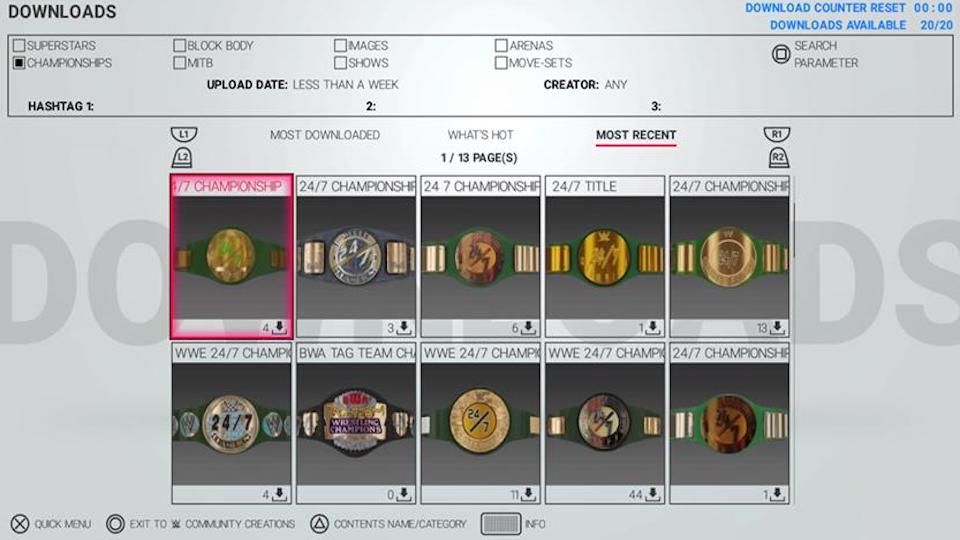 The new WWE 24/7 Championship belt already has fans talking up a storm. Some are loving the idea but hate the design. Others are simply wishing it was named the WWE Hardcore Championship. In a way, it is that title minus the name. That said, the good news is that the original WWE Hardcore title belt is one that can be created, or downloaded, and used in the WWE 2K19 game as well.
Also, make sure to check out the WWE CAW download for Bray Wyatt's transformation and the Firefly Fun House.
Get more of the latest news about the WWE 2K game here.