After a series of datamining leaks and plenty of excited speculation from fans online, Respawn have finally confirmed the identity of the first new Legend coming to Apex Legends. As most fans suspected, their identity has been confirmed as Octane; a speed junkie character who uses bounce pads to leap across the map. The Apex Legends Octane character will be playable in-game tomorrow with the launch of Season One.
Apex Legends Octane: The First Post-Launch Playable Legend
Details about Octane's backstory and abilities were recently published on PlayStation.Blog, giving fans some insight into this wild character's past; "After blowing his legs off in a record-breaking gauntlet speed-run," the bio reads; "Octavio 'Octane' Silva is diving into the Apex Games with metal legs and even bigger ambitions. He's searching for the ultimate adrenaline rush by using his death-defying moves to become an Apex Champion."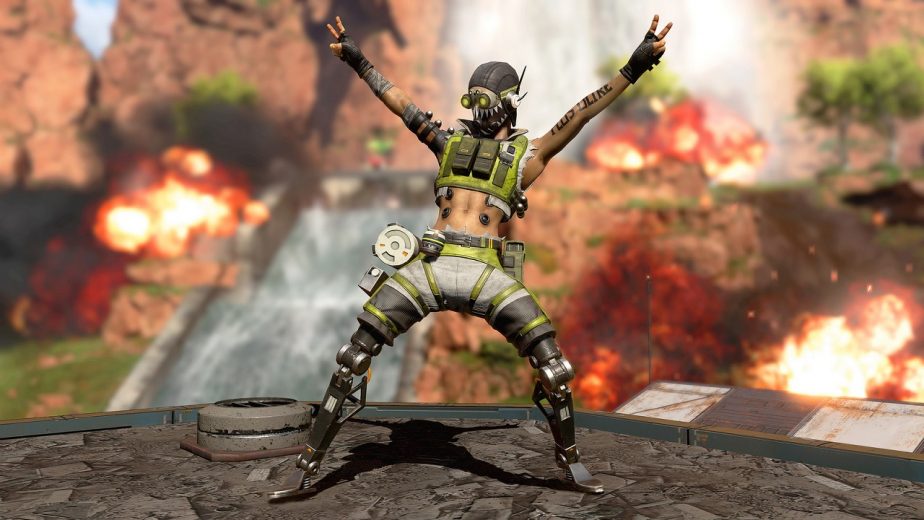 When it comes to his abilities, it sounds as though speed and mobility will be Octane's strongest traits. Certainly, he's likely to one of the most mobile characters on the roster, if not the most mobile. Indeed, the reason for this is that he can literally sacrifice his own health to run faster! Don't worry though, as it seems that he will also have a way to heal himself. "His Adrenaline Junkie ability lets him trade health for speed, and an endless supply of Stim health regeneration means he's always ready for action. His Launch Pad Ultimate Ability lets his squad fly through the air with the greatest of ease. Jump into Apex Legends and play Octane tomorrow!"
The pads which Octane deploys for his Launch Pad Ultimate are actually already in the game. Players recently discovered the same green pads scattered on the Apex Legends map. At the time, it was suspected that Respawn were teasing the announcement of Octane. Certainly, it seems now that that was indeed the case. Octane will be playable in Apex Legends from tomorrow, once Season One officially begins.