Although more will be added in the Tides of War post-launch content schedule, Battlefield 5 will be launching later this month with eight different maps. Some, like Rotterdam, were playable during the game's open Beta. Others, like the third map, Twisted Steel, were not. One of these new Battlefield 5 maps, Twisted Steel also sets a record for containing the largest structure ever made for a Battlefield game.
Battlefield 5 Maps: Twisted Steel
In the game's trailers, Twisted Steel appears to play a role in the Tirailleurs War Story. In this mission, Senegalese colonial troops must push the Germans back through occupied France. The map takes place in the French marshlands, and its name comes from the colossal bridge which spans it. Along with Arras, it is one of two Battlefield 5 maps which take place in France. It doesn't portray any specific moment in history, it is apparently inspired by one part of the conflict; "Twisted Steel is heavily inspired by the events at the fortified sector of the river Escaut in 1940, on the border between Belgium and France," explains DICE; "Apart from the aforementioned impressive fallen bridge, you'll fight in villages, across fields, and along a river on a map designed to bring those rural, Europe-based World War 2 fantasies to life.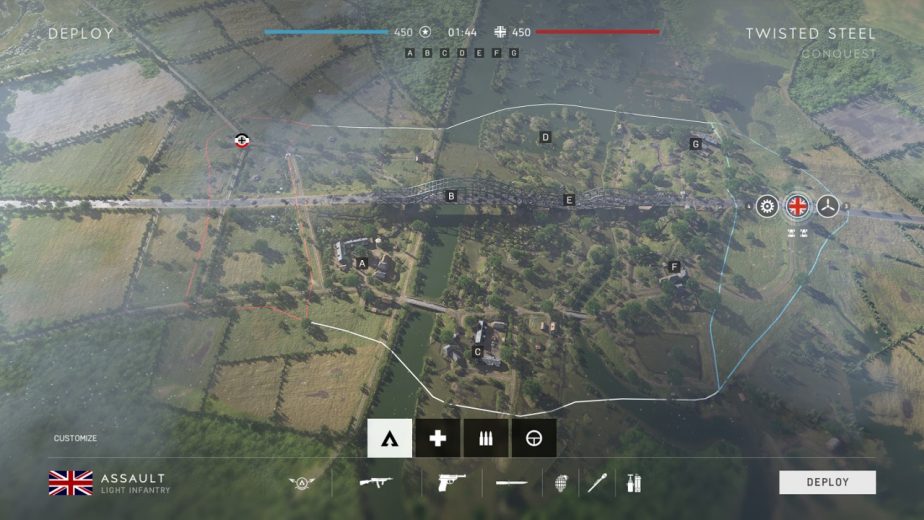 "Vastness and location variety make all playstyles valid on Twisted Steel," say DICE; "Everybody has their place and there's plenty of room for both infantry, large vehicles, and planes to make a mark. If you deploy in a land vehicle, you may prefer be roaming in the swamp area north of the bridge. If you're playing as infantry here, use the vegetation as cover – but remember that the trees are destructible, and the landscapes may change drastically."
The overview which DICE gives for the map's Conquest mode lists it as "Large"; making it one of the biggest Battlefield 5 maps. As such, it features infantry, tanks, and aircraft. Despite being so huge, DICE describes its tempo as "moderate – fast"; The map is available for the Airborne, Breakthrough, Conquest, Domination, Frontlines, and Team Deathmatch game modes. Additionally, it features on days 1 and 2 of the Fall of France Grand Operation. Days 3 and 4 take place on Arras.