When Battlefield 5 launches later this month, 8 different maps will be included at launch. Gamers who participated in the open Beta have already had a chance to play on some of these, but most have remained mostly under wraps. Now, DICE has revealed details of every one of the eight Battlefield 5 maps. The first of these is Rotterdam; one of the maps which featured in the Beta.
Battlefield 5 Maps: Rotterdam
"All trains through Rotterdam are currently delayed due to an unforeseen military invasion," says DICE. Unforeseen is certainly correct; the Dutch forces in May of 1940 were massing along a defensive line, but had left Rotterdam relatively undefended. The small local garrison found itself under assault by German forces during the Battle of Rotterdam, an engagement which involved fierce urban skirmishing between Dutch and German troops. The battle is more infamous for what happened immediately after; the Rotterdam Blitz.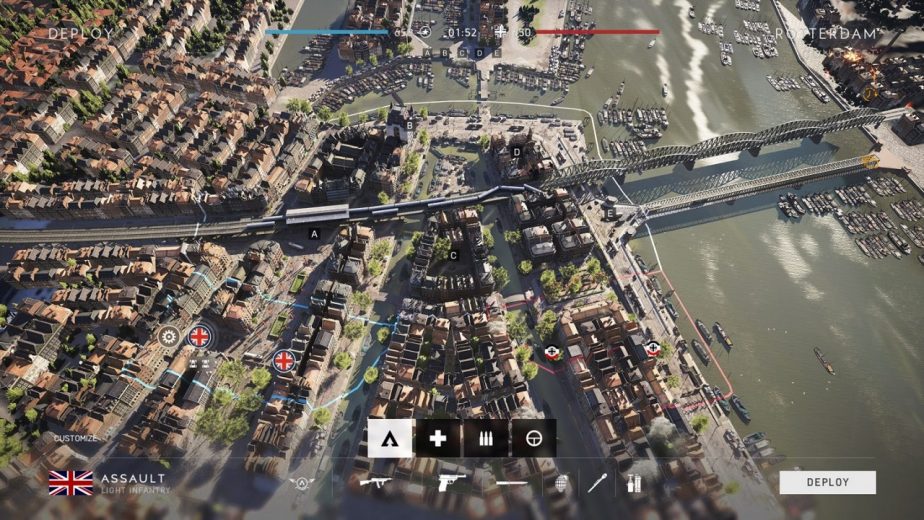 DICE gives an overview for the map's appearance in the Conquest game mode in a recent news post. The studio describes the map as "medium" size, with a "moderate-fast" tempo. It features both infantry and tanks, but no aircraft. The developers compare it to two maps from previous Battlefield games combined into one; "Consider Rotterdam a spiritual successor to the Battlefield 3 Seine Crossing map with a hint of Amiens from Battlefield 1," says DICE; "It's an urban environment decorated by canals, tall buildings, and a marketplace that no longer soothes pedestrians but preludes close-quarter firefights. The railway provides an elevated position to move across the map or oversee chokepoints with a ranged weapon from east to west – but is still dangerous if you don't keep an eye on the railcar next to you."
Rotterdam is available in the Airborne, Breakthrough, Conquest, Domination, Frontlines, and Team Deathmatch game modes. It also plays a role in the Battle of Holland Grand Operation, where it appears on day one and two. The third and fourth days of the operation take place on the Devastation map; a variant of Rotterdam which is set after the destruction of the Rotterdam Blitz.