Tomorrow, on the 1st of April, Gearbox will be launching a limited-time Borderlands 3 event entitled "Show Me the Eridium". The event will run over the course of the next week, leading up to the release of the Director's Cut DLC on the 8th of April.
Borderlands 3 Event: Show Me the Eridium
"Show Me the Eridium" is one of several in-game Borderlands 3 events which Gearbox has run several times over the last year-and-a-half. In this particular case, as the name implies, it focuses on boosting the amount of Eridium available in Borderlands 3. Players will see more Eridium dropping in Mayhem Mode, and even Eridium dropping from regular enemies. Meanwhile, discounts will be available on both Moxxi's Vault Line slot machine and Crazy Earl's inventory.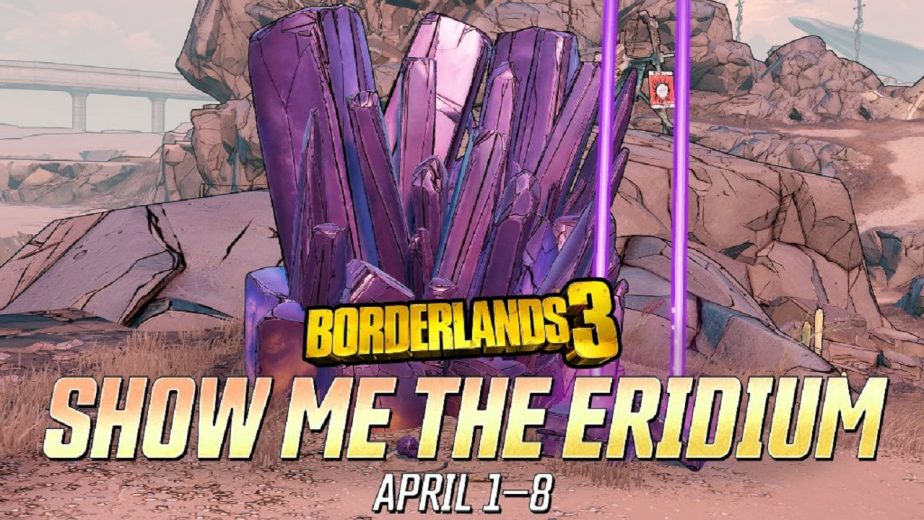 The event will officially begin tomorrow, on the 1st of April, at 9:00 AM PT. It will be live in-game for a full week and will end at 8:59 AM PT on the 8th. Shortly after its conclusion, Gearbox will be launching the Borderlands 3 Director's Cut DLC; the second expansion of the game's second Season Pass, and which is anticipated to be the final Borderlands 3 DLC. As such, players looking to stock up on Eridium before the DLC arrives should have little trouble doing so over the next week.
Indeed, if you take advantage of this week's discounts, it's also a great opportunity to prepare for Hemovorus; the all-new raid boss coming in the Director's Cut DLC. Hemovorus is intended to be one of the game's most significant challenges, especially for end-game players. As such, you'll need the best gear you can get your hands on to have a chance of victory. Spending Eridium is certainly one way to acquire the necessary weapons and gear. Regardless, the event may also simply be a good excuse to return to the game for some practice ahead of the DLC launch.