When it launches later this year, Borderlands 3 will finally take players beyond the planet of Pandora and its moons. For the first time, players will be able to visit multiple planets. Thus far, Gearbox has shown some settings in trailers which are likely other worlds, but hasn't revealed any direct info about them. Now, fans have gotten their first look at Promethea, one of the upcoming new Borderlands 3 planets.
The Borderlands 3 Planets: What We Know About Promethea
Earlier today, Gearbox shared several in-game screenshots and a video of Promethea via Twitter. "Visit Promethea!" they proclaim; "Take a look at these brand new screenshots of Promethea, one of the new planets you'll be exploring in Borderlands 3". The tweet then links to a brief lore article on the game's official website, where more screenshots are available. The page doesn't give a huge amount of information about the planet, but we do learn some interesting titbits, particularly about the setting's arms companies.
"Home to the Atlas Corporation headquarters," reads the page; "Promethea is a metropolitan world covered in futuristic towers of chrome and glass. A recent siege by Maliwan has turned the urban environment into a warzone; their mechanised infantry patrol the streets, rodent/insect hybrids known as Ratches infest the sewers and back-alleys, and the Children of the Vault are seizing the opportunity to recruit displaced and disgruntled citizens. Atlas CEO Rhys Strongfork is getting desperate."
The key point to note there is that Promethea will be the stronghold of the Atlas corporation. At the end of Tales From the Borderlands, Rhys acquired the deed of ownership for Atlas from Handsome Jack's office. Since then, it seems that he has taken over the company. He will appear in Borderlands 3, albeit with a new voice actor. As such, Atlas are likely to be the players' allies. However, it sounds as though players could get the opportunity to face off against the forces of rival arms company Maliwan. Interestingly, robot enemies that appear in screenshots seem to have the same chassis as the robot companion used by Gaige in Borderlands 2.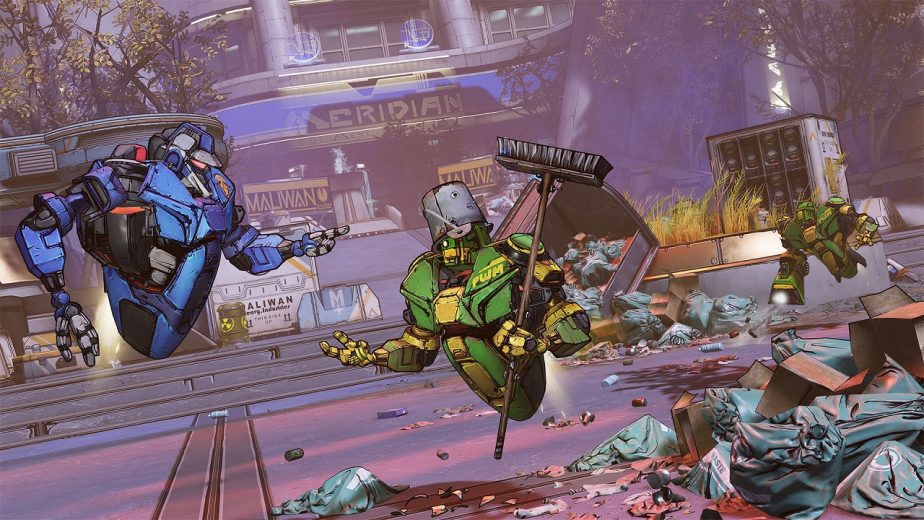 It's likely that fans will get another look at Promethea in-game soon. Gearbox recently started a video series called "Claptrap's Interplanetary Series"; the first episode of which looks at Pandora. Indeed, an episode featuring Promethea will likely appear at some point.