Ahead of the release of Borderlands 3 on the 13th, Gearbox has confirmed that pre-load is now available. If you're excited for the release of Borderlands 3, and you've already pre-ordered the game, then making sure that you've done the Borderlands 3 pre-load should be a top priority. Otherwise, you may find yourself waiting through a lengthy download when you sit down to try and play.
Borderlands 3 Pre-Load and Global Release Times
The Borderlands 3 pre-load is now available on Xbox One, PS4, and PC. Given that the game is a massive 75 GB, this is definitely an opportunity you'll want to take advantage of. Even on a high-speed internet connection, a 75 GB download could take a long time, and on slower connections it could take hours. Fortunately, you can get that download started now. (If you've pre-ordered, of course.)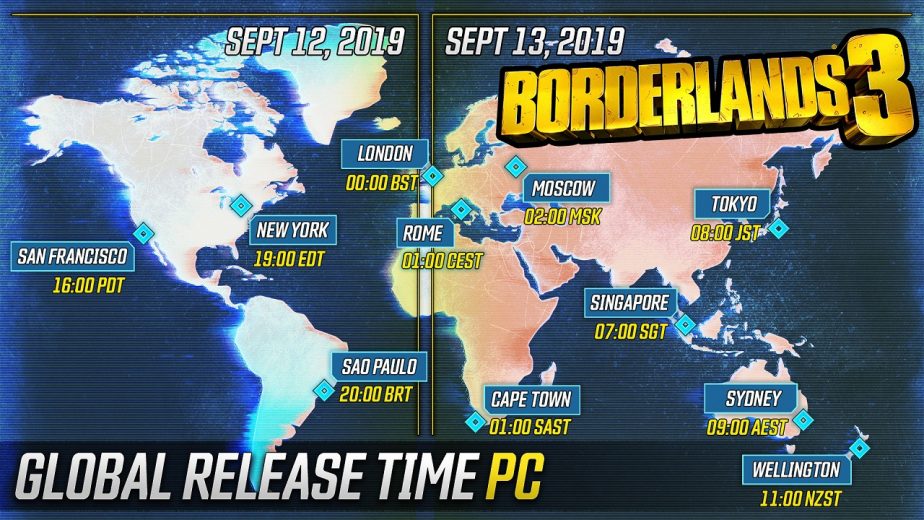 Gearbox recently released a graphic showing the different global release times for both PC and console. On both the PS4 and Xbox One, the game will be available at 00:00 on the 13th in every global time zone except for PDT, where it will be available at 21:00 on the 12th. The PC release times are much more complex, however. The game will become available on the 12th in three different time zones; at 16:00 in PDT, 19:00 in EDT, and finally 20:00 in BRT. The UK will get access next, at 00:00 BST on the 13th, followed by Europe at 01:00 CEST. The game will be available at 01:00 SAST, 02:00 MSK, 07:00 SGT, 08:00 JST, 09:00 AEST, and 11:00 NZST.
The Borderlands 3 release is likely to be highly successful given the widespread hype for the game among gamers. The game was voted Most Wanted Game by attendees at Gamescom 2019, for instance. Gearbox has certainly made the most of the attention by releasing a veritable barrage of trailers, ranging from gameplay teasers to some truly bizarre promotional ideas. With four new Vault Hunters and a story that spans four different planets, Borderlands 3 seems likely to be one of the most successful releases for the entire franchise.