Later this week, on the 14th of January, Treyarch will be releasing the Mid-Season Update for Season One of Call of Duty: Black Ops Cold War. Alongside the new Sanatorium map and two new multiplayer modes, this update will be introducing two new variant modes for Zombies.
New Cold War Zombies Modes – Cranked & Onslaught
The first of the two new game modes coming to Black Ops Cold War Zombies is Cranked. Similar to previous Cranked multiplayer modes, this mode features a countdown timer, and players die automatically once it hits zero. This countdown will begin once the first zombie dies, after which point every zombie kill will keep the timer going. The mode also features the Cranked Timer Power-up, which will momentarily freeze the timer for all players in the match.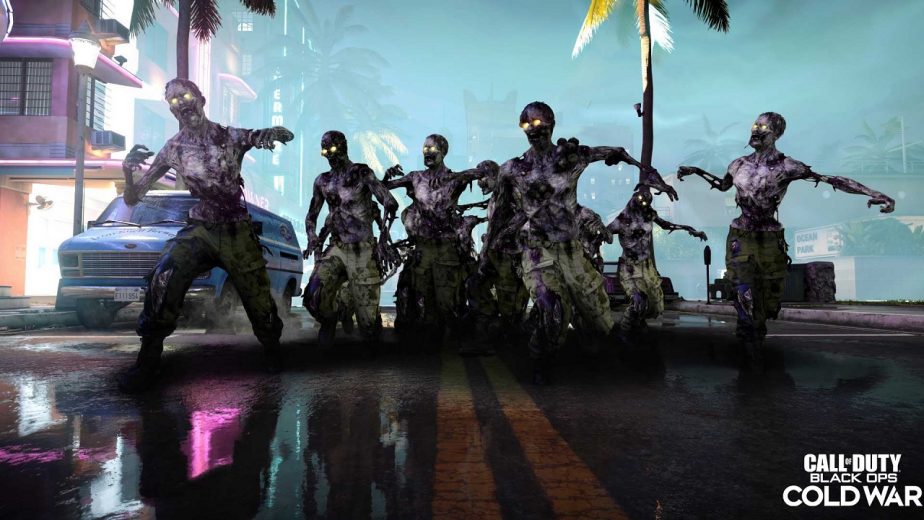 Cranked is only one of the two new modes coming to Zombies, however. The other, Onslaught, is more significantly different to the standard Zombies mode, but also comes with a major caveat; the mode is exclusive to PlayStation consoles. In all likelihood, this is a timed exclusivity deal with PlayStation, and the mode may well come to other platforms eventually. However, it could be a year before that happens.
Onslaught is a fast-paced new Zombies mode for two players. Rather than taking place on the standard Zombies maps, Onslaught takes place on the various Black Ops Cold War multiplayer maps. The two players will face waves of zombies in a smaller area, as a result. However, there are two further difficulty factors. First, the zombies in Onslaught will be especially aggressive, and second, a Dark Aether Orb will force players to stay in one limited part of the map for a limited time. This safe zone will shift periodically around the map as the waves become increasingly dangerous. Players can earn Bronze, Silver, or Gold ranks for completion, as well as exclusive Weapon Blueprints.