Shadowkeep will be releasing on October 1, 2019 (the last release was September 17, 2019). At this point, we all know that Shadowkeep will be coming with a brand-new Raid. In Out of the Shadows Bungie ViDoc, they revealed that this Raid will be taking place in The Black Garden. This was the place where we first encounter the Darkness worshipped by the Vex. Along with that, several fan theories suggest we might also be heading back to the Heart of the Black Garden.
Shadowkeep's Raid Title
Recently, in a blog-post, Bungie revealed that the new Raid will be called Garden of Salvation which is obviously a really interesting name considering it might be infected again. Here's what they said about the raid and other patches
• The World First for the new Raid Garden of Salvation will begin on Saturday, October 5. It's a weekend Raid race and Contest will be active
• We're extending Moments of Triumph through September 17 – you'll have three more weeks to complete this year's challenges and unlock all of the in-game and Bungie rewards
• We're going to run an additional Iron Banner the week of September 17 as well
If you need a bit more time to unlock every Triumph in Moments of Triumph, you're in luck. Bungie is also extending the Moments of Triumph through September 17, 2019.
The Reckoning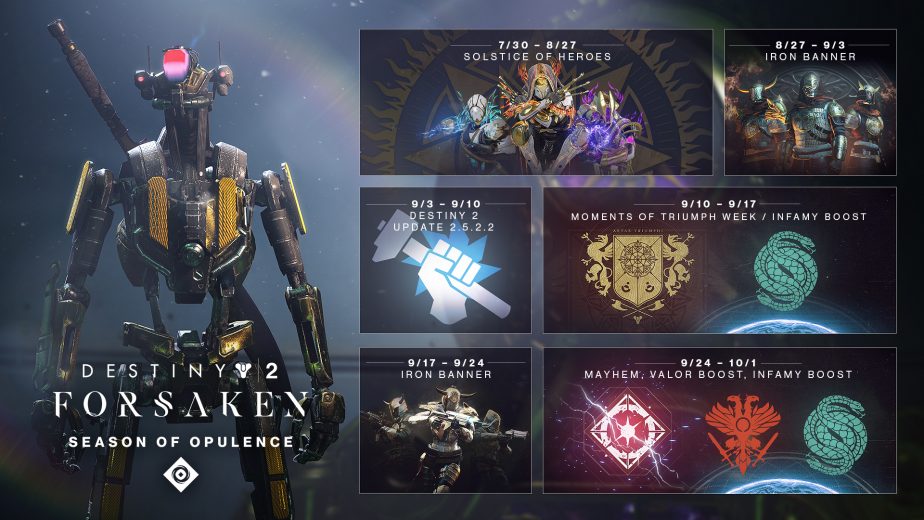 In TWAB, Bungie released that they've heard the feedback for the Reckoning (a PvE activity released in Season of the Drifter). Here's what they said:
Gambit Prime and Reckoning weapon reward rates will be highly increased.
They will also have bad-luck protection to guarantee a drop after a set amount of runs.
The Reckoning difficulty will be tuned to be more welcoming as you hunt for rewards.
This confirms that you'll get a confirm Reckoning drop on a set amount of completions. Solstice of Heroes is going strong these days. Players are really enjoying the grind of the new shiny armor sets for each class.
Shadowkeep will be hitting PlayStation 4, Xbox One and PC on October 1, 2019, and later in November on Google Stadia.