The Fallout 76 Wild Appalachia post-launch content schedule is currently underway, and fans will be getting the next big update tomorrow, on the 9th of April. This update is bringing a whole new set of Fallout 76 quests; all of which are themed around the legendary "Sheepsquatch," a terrifying new cryptid.
Fallout 76 Quests: Lying Lowe Questline Introduces the "Sheepsquatch"
The new "Lying Lowe" Fallout 76 quests comprise a new story about investigating the mystery of the Sheepsquatch. Players will start out in the ruined town of Lewisburg. Here, they can find posters left by Shelly van Lowe, who believed that the Sheepsquatch was responsible for the disappearance of her brother. Once players read one of these posters, they'll be able to start the quest. Just like with previous new quests in Wild Appalachia, you can also claim the poster for free in the Atomic Shop. Once you do, simply place it at your C.A.M.P. and read it there in order to avoid tracking one down.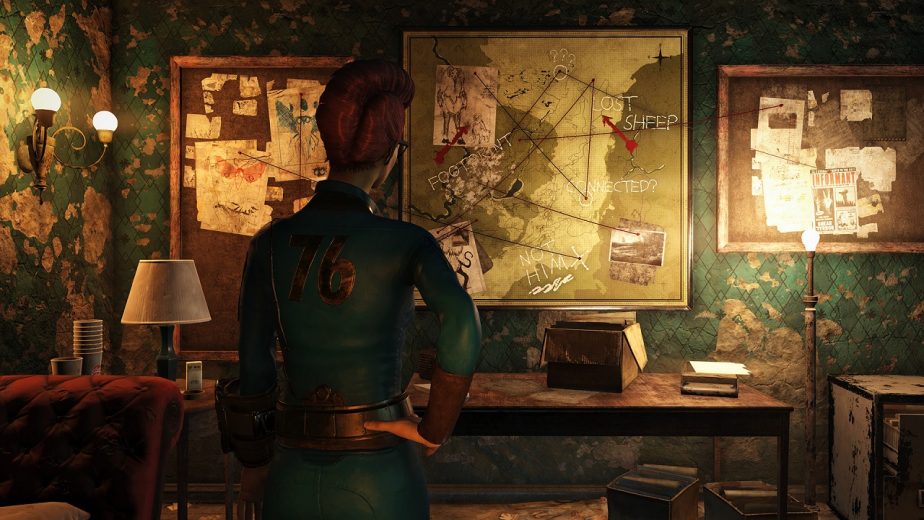 Details on the rest of the questline, and the Sheepsquatch itself, are currently hazy. In fact, Bethesda hasn't even shown what the beast looks like, although there is a new costume players can wear to look like it. Fans got a glimpse at what may be the cryptid's maw in the Wild Appalachia trailer, but that's it. Given that its silhouette appeared prominently in Wild Appalachia marketing, it's likely to be a major new boss for the game.
The new Fallout 76 quests are also launching alongside Patch 8. This patch will introduce new features like item renaming, an adjustment to turret damage, and new vendors for every faction in the Whitespring Resort (except the Enclave). After this new update, players won't have to wait long for the next one; Bethesda will be adding a new camera item on the 16th of April. However, that will be the last April update for Wild Appalachia. Fortunately for fans, three more content updates are planned for May.