The Fallout 76 Wild Appalachia DLC is the game's first significant post-launch content release. Designed as a series of post-launch content releases rather than a single expansion, Wild Appalachia was due to release its first pack today. However, a last-minute delay means that it will now release at some point tomorrow.
Fallout 76 Wild Appalachia DLC Will Now Release Tomorrow
The announcement of the delay was made by Bethesda via Reddit, where they said that they were; "shifting a day to March 13". According to the studio; "We are moving the release date of our first Wild Appalachia content back one day on all platforms. We just need a little more time to brew. Experience the new quest, crafting station & much more starting now on March 13."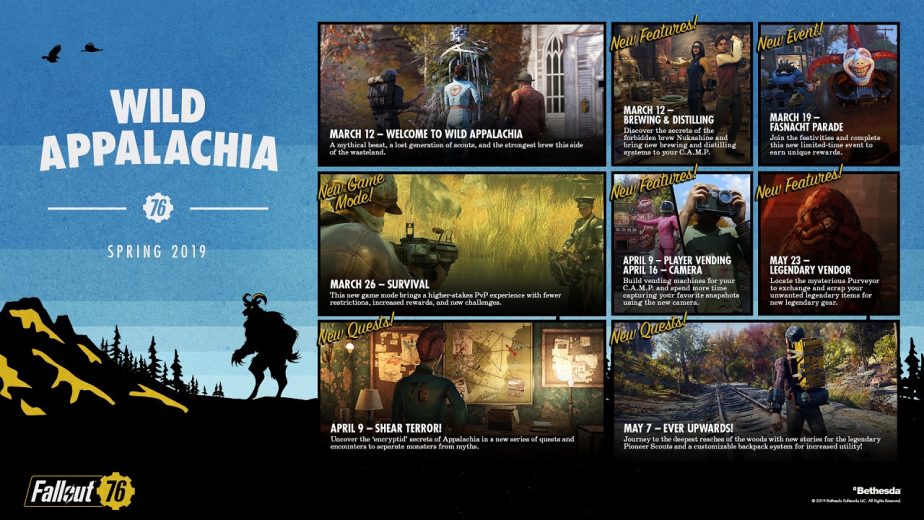 It's unknown why Bethesda chose to delay the release. However, the most likely possibility is that the developers stumbled upon some sort of bug or issue with a relatively quick fix and chose to delay long enough to implement that fix. If so, that's certainly a move that will resonate well with the game's fans, who certainly have little patience left for bugs after the game's troubled launch. As the announcement states only that the release date of the "first Wild Appalachia content," is being delayed, it seems that the subsequent upcoming releases included in the DLC will still launch on their scheduled release dates.
The next of those planned features is the Fasnacht Parade event. That will come to Fallout 76 in a few days' time, on the 19th of March. After that, Survival Mode is coming on the 26th. Wild Appalachia has three more releases scheduled for both April and May, bringing new quests, gameplay features, and a new vendor. The 'Ever Upwards!' release on the 7th of May will even add a new faction to the game; the Pioneer Scouts.