Apex Legends just got a huge delivery of new content for Season 2, including a new Legend, new weapon, and plenty more. However, not all of the new content is available in-game. An Apex Legends Twitch Prime partnership means that Twitch Prime users can get exclusive content drops, including new skins for the game. However, these drops will only be available during Season 2.
What's Available Through Apex Legends Twitch Prime Drops
Apex Legends Season 2 began on the 2nd of July and will continue until the 30th of September. It's during this time that fans will be able to get the new Apex Legends Twitch Prime drops. Currently, these drops include two new skins; "Stellar Stallion" for the new L-STAR and "Sweet Dreams" for Wattson. However, this content will change as the season progresses. Details for this content have yet to be fully revealed. However, fans can expect to see new Legend skins, including for Mirage, Octane, and Bangalore.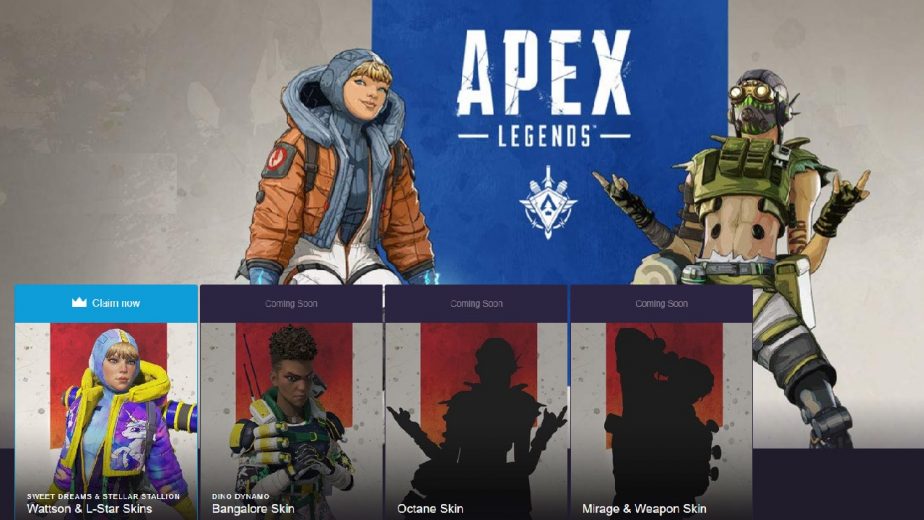 To get these drops, you need to have both Twitch Prime and Amazon Prime accounts. If you don't have the former, note that you can actually upgrade a standard Twitch account to Twitch Prime by linking it to your Amazon Prime account. Once you've signed into both accounts and made sure to link them up, you can go to this Apex Legends content page to claim the content drops. You will be prompted to sign into your EA account at this point. Note that this doesn't need to be EA Access – any standard EA account is fine. Indeed, you may well already have one if you're playing Apex Legends!
If you claimed the content on PC, you should get immediate access. If you play Apex Legends on console, be aware that you'll need to have linked your EA account to your Xbox Live or PSN account (this should already have happened if you've already played Apex Legends on console). Although this new content is available on all three major platforms, note that you can only claim it once. As such, if you play Apex on more than one platform, be sure to claim it using your preferred platform.