There are plenty of personalities within WWE and some might be described as having a "big head" in and out of the ring. Thanks to the new WWE 2K19 game, fans can actually give the superstars those big heads. It's a fun, goofy, arcade-style addition to the title that fans are starting to discover. For those yet to enjoy the entertaining matches, here's how to get WWE 2K19 big head mode turned on for the various consoles.
What is WWE 2K19 Big Head mode?
This WWE 2K19 gameplay mode isn't a feature that will really help or hurt superstars in matches. Instead, it just gives the game a different look. It may remind some gamers of titles like the NBA Jam or other games which made athletes look distorted in terms of their body to head ration. The screenshot below shows Seth Rollins and Kevin Owens facing off in the ring with bigger heads than usual.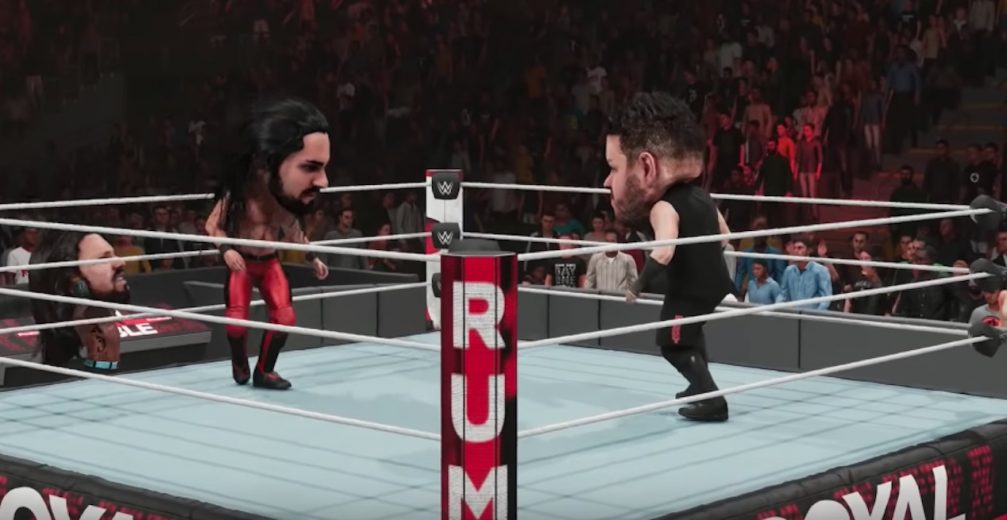 The Big Head mode is available for anyone on the WWE 2K19 roster too. That means you can give gigantic heads to male or female superstars, WWE legends, and even created superstars. It not only gives them a huge head in the ring or matches but during the different entrances. It also can apply to all types of matches.
How to unlock WWE 2K19 Big Head mode
Before you can use 2K19 Big Head mode, you'll have to unlock it. Doing that requires a bit of work in the game, particularly in the Towers mode. You'll be competing in the Andre's Ascent Tower challenge. In this particular challenge, you're going to have to defeat 14 superstars, who just so happen to be WWE legends. There's also a giant you'll have to defeat at the end in true boss fashion.
Choose Andre's Ascent Tower.
Defeat 14 other WWE legends in matches.
Defeat Andre the Giant inside a steel cage match.
The cage match versus Andre will have some different rules so make sure to keep an eye on those. It's not exactly the easiest mode to unlock, but once it's available it is a lot of fun.
How to use WWE 2K19 Big Head mode
WWE 2K19 Big Head mode is available for the Sony PlayStation 4, Microsoft's Xbox One, or Windows PCs. It's available in all versions of the WWE 2K19 game including Collector's, Deluxe, and Standard editions.
To turn on 2K19 Big Head mode here's all it takes.
Choose a match type on the 2K19 screen.
Select "Match Options" from the Wrestler/Superstar Select page.
Scroll in the "Match Options" menu to "Big Head".
Turn "Big Head" to "Yes."
Press the controller button to "Accept" confirmation of this.
Begin playing the selected match with the Big Head mode!
As mentioned, this simply gives a unique look to the game and a more arcade-like feeling to matches. Seeing some of the superstars with their enormous heads complete with masks, face paint, or other trademarks can border on funny, cool, or downright scary!
Check out this all-out Royal Rumble match below with the feature switched on.
Fans can pick up their copy of WWE 2K19 for PS4, Xbox One, and PCs now to enjoy Big Head mode as well as many other exciting new features.