Jump Force has always been guaranteed to include some of the biggest, badass protagonists and villains in anime/manga history. Well, this time Jump Force has gone one step further by confirming that protagonist of the Bleach series, Ichigo Kurosaki, will be joining the ranks of Naruto, Luffy and Goku in this Shonen Jump fighting game. Jump Force Ichigo Kurosaki was not available to play back when the game was revealed at E3, but that didn't stop fans from speculating that we'd see his appearance sometime soon.
This news comes from Gematsu, where Ichigo's appearance was confirmed in the latest issue of Weekly Jump. The reveal of Ichigo in Weekly Jump could implicate how future playable characters are revealed, especially as the game itself is being developed to celebrate Shonen Jump's 50th anniversary. However, this may disappoint some fans who may prefer to have a trailer reveal instead of confirmation in the magazine. You can take a look at the magazine for yourself below.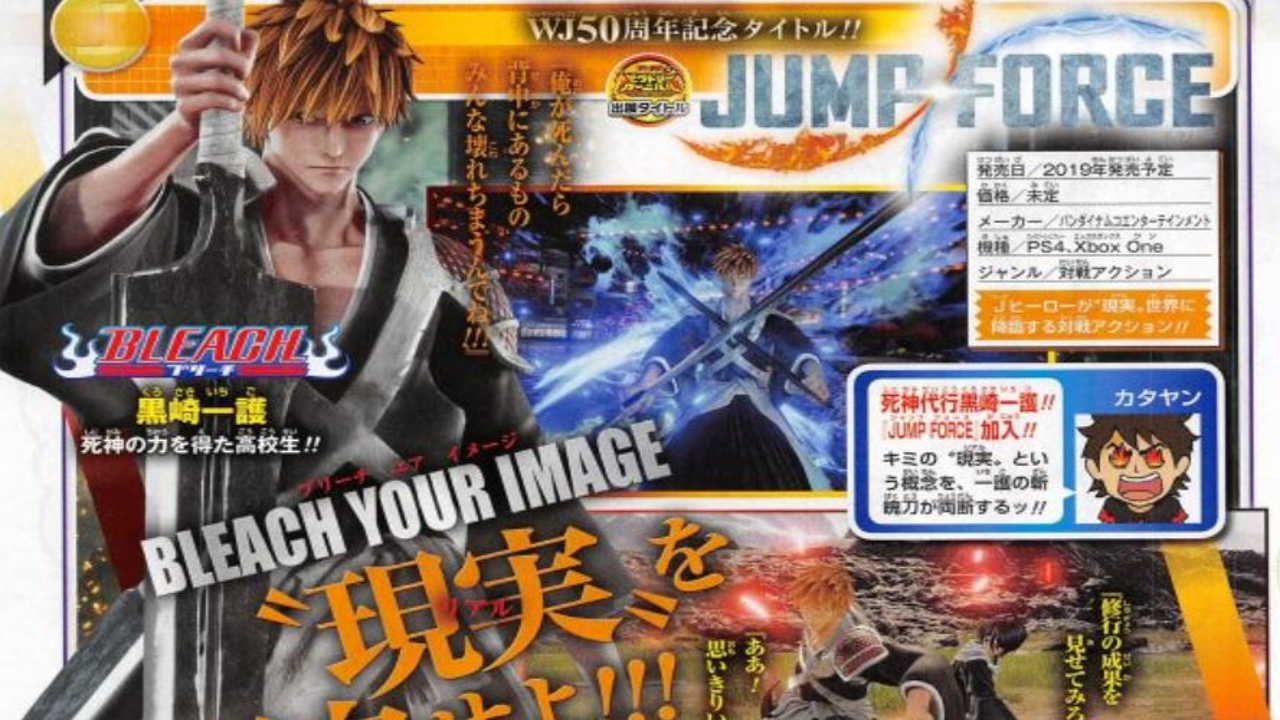 As you can see, it looks as though Ichigo has truly gotten the Jump Force treatment and will be part of the roster. For fans who may not know who Ichigo is, or just aren't all that familiar with Bleach, we're here to explain. Ichigo is a human with Shinigami powers who can also see ghosts, but his life is changed forever when his family is attacked by a lost soul. It's a great, timeless anime and we recommend you watch it if you want to know as much about these characters before you jump into the game.
What was also confirmed by the magazine is a brand new location: Hong Kong. However, it may look a little different to some, especially as Blackbeard's Pirate Ship from One Piece seems to be sitting in the middle of it.
The magazine also mentions the appearances of Rukia Kuchiki and Sosuke Aizen, though whether they'll be playable has not been confirmed.