Rockstar Games will be adding new house, techno and electronic music to the already varied list of tracks available in Grand Theft Auto Online this summer. A duo musical artist titled Tale of Us has posted on their Instagram feed a teaser for new music coming from themselves, Solomun, Dixon and The Black Madonna. The teaser contains a backdrop of Los Santos with a purple filter, correlating with the contemporary theme the music attains.
The time frame of "Summer 2018" indicates a June-August release, which fits in with the rumored Night Club update teased by Yan2295 a week ago. The Night Club update is said to be slated for release this June and will allow players to "buy and run night clubs", presumably the recently-removed Bahama Mamas. This new music release seems to fit the aesthetic of a night club, especially with contemporary genres exclusively and the purple, modern design of the teaser.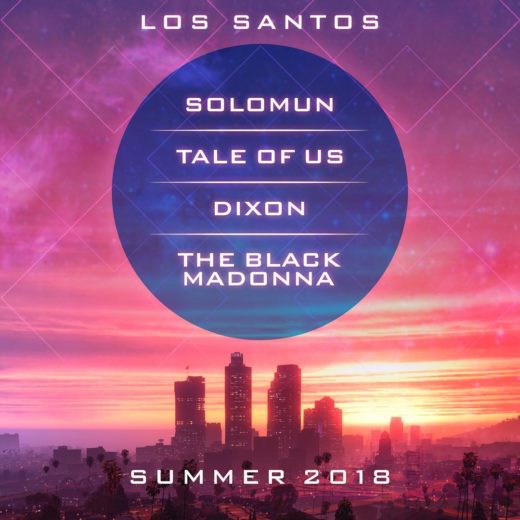 It seems to be the case that Rockstar Games are not slowing down on their updates to Grand Theft Auto Online, however we do not know whether the new music from these artists will be part of a new radio station, or whether it will be added to an existing one. We also do not know whether or not the new music will be available only in Online or also the single-player mode for V. You can stay tuned for our coverage when Rockstar Games officially announce the rumored Night Club update, and give more details on this new music patch that is coming this summer.
It is nice to see Rockstar's continued support for Grand Theft Auto Online, especially when trying to prioritize the marketing of the upcoming Red Dead Redemption 2, which is currently under Rockstar's eye for marketing. We have yet to see if more details will be announced at E3, but their track record of doing so is not that good, and they already confirmed they will independently reveal more information about Red Dead Redemption 2's special editions in June. Either way, Grand Theft Auto Online's continued update is allowing to game to strive – hitting over 95 million copies of Grand Theft Auto V sold since its launch in September 2013.