For the first time in the series, the Borderlands 3 Pandora will be just one of the planets to feature in the game. Players will also spend time on Eden-6, Promethea, and Athenas. However, while Pandora might seem very familiar to series fans, Gearbox won't simply be rehashing the classic setting. In fact, the studio has teased several new destinations that players will be able to visit on the wasteland world.
Borderlands 3 Pandora: Same Planet, New Destinations
"A barely-habitable rock that the Children of the Vault have made their homeworld," describes Gearbox; "Pandora's searing-hot deserts, vicious wildlife, and burgeoning bandit population have proved too much for all who have tried to tame the planet and exploit its resources. The ruins of Dahl, Atlas, and Hyperion facilities litter the landscape, inhabited by all manner of Skags, Rakk, Varkids, and Spiderants that are intent on eating and killing you. Usually in that order."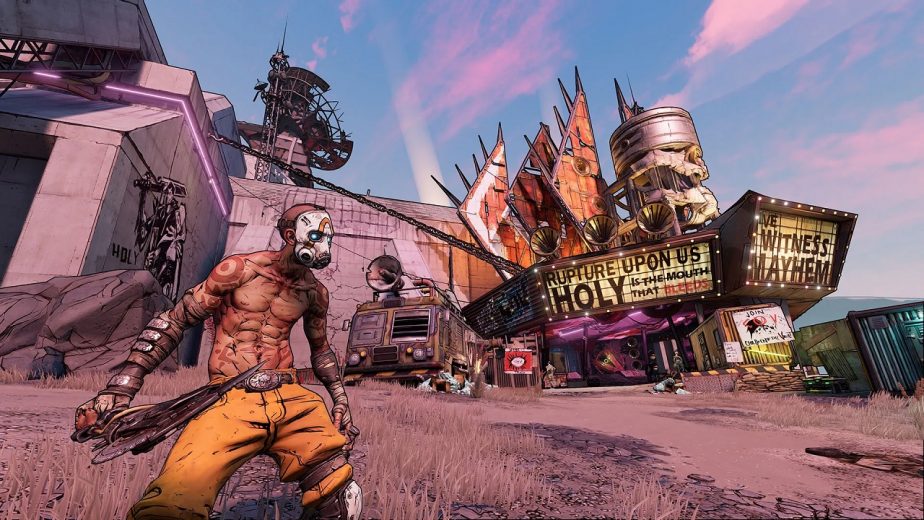 Following on from the studio's reveals for Athenas, Promethea, and Eden-6, Gearbox has released some brief information about Pandora itself. Although fans already know quite a lot about this planet, there will still be new things to discover. For one, Sanctuary will no longer be a fixture of Pandora. Sanctuary III will be the players' base of operations, but is a spaceship, not a city. Three new locations have been teased for Pandora though. Namely, Roland's Rest, the Sun Smasher Camp, and the Holy Broadcast Centre.
Roland's Rest sounds like it will be a tomb built for Roland, one of the four original Vault Hunters who died during Borderlands 2. On the other side of the planet, the Holy Broadcast Centre could very well be a base of operations for the Calypso Twins and the Children of the Vault. However, no information about these three sites has been revealed – just their names. Fans will be able to explore Pandora for themselves when the game launches on the 13th. Click here to check the game's global release times to find out when you can start playing in your region!