Following its recent launch, Respawn has now revealed their first exclusive Twitch Prime reward of Apex Legends' 4th Season. It turns out that, just like they did in Season 3 with Crypto, the reward is a skin for the new Legend. In this case, it's the dazzling new "Gilded Rose" Apex Legends Revenant skin. Fans of the murderous new Legend can download this new skin for free via Twitch Prime right now.
How to Get the "Gilded Rose" Apex Legends Revenant Skin
"Roses are red, Revenant's skin is too," writes Respawn; "and he'll never, ever stop hunting you! Everybody's favourite sinister simulacrum is ditching the skins of his enemies for this flowery alternative. Revenant may be literally heartless, but you can still fall in love with his blood-red bouquet display! Dress to impale and get up close and personal with the other Legends this February. You'll truly take their breath away — forever!"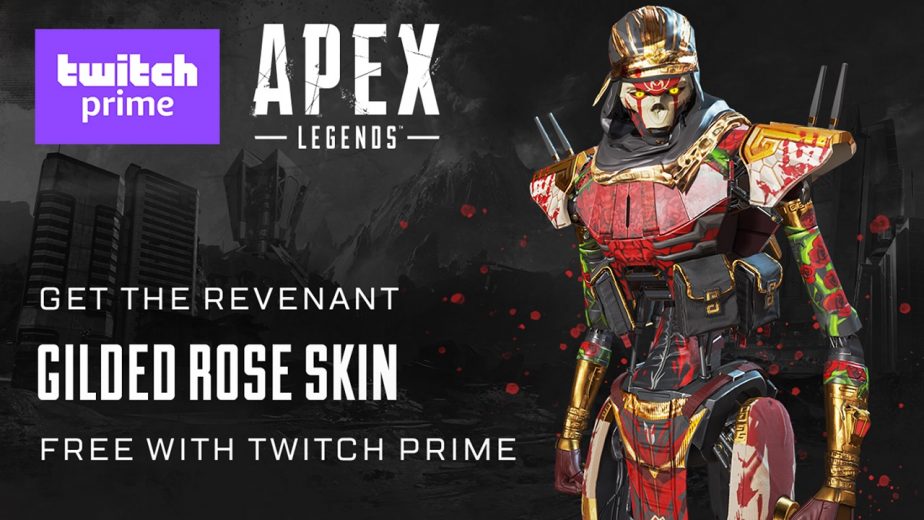 For quite some time now, Respawn has been periodically releasing new skins for Apex Legends as exclusive rewards on Twitch Prime. These skins are free to download, provided you have a Twitch Prime account, of course. Following the launch of Season 3, Respawn made a new Crypto skin available via Twitch Prime, and it looks as though they're using the same tactic again this season; offering a flashy new skin for the newest Legend. In this case, the skin's aesthetic also ties in nicely to the new Valentine's Day Rendezvous event.
To download the Gilded Rose Revenant skin, you'll need to have linked Twitch Prime and Amazon Prime accounts. If you do, you can head over to the Apex Legends content page on Twitch to claim the new skin. You'll need to sign in to your EA account too, if you haven't done so on Twitch already. If you're a PC player, you'll get the skin right away. If you're on console, then you'll also need to have linked your EA account to either your Xbox Live or PSN account, as appropriate.