The first of two planned Call of Duty: Modern Warfare Beta weekends went live earlier today, giving many gamers their first chance to try out the game's multiplayer. (Beyond Gunfight, which was the only mode available in the Alpha event.) This first event is only available on PS4, and initially only available to those who have pre-ordered. However, the event will transition to an Open Beta over the course of the weekend.
The First Call of Duty: Modern Warfare Beta Weekend
Although Activision and Infinity Ward are describing their two Beta events as "Weekends," each one will actually last for around five days. The first two days will be available in Early Access for those who have pre-ordered. After that, the remaining three days will be an Open Beta for anybody to try. The first weekend is only available on the PS4. However, the next weekend, which begins one week from now, will be available on Xbox One and PC too. The entire "weekend" will be an Open Beta for the PS4, as the Early Access period is happening this weekend.
The second weekend will be a greater test of Activision's server setup, as the event will feature crossplay across all three platforms. More details about crossplay in Modern Warfare are scheduled to be released on the 16th of September. These two Beta events will be the first time that gamers will get to try Modern Warfare's multiplayer modes, beyond Gunfight. Indeed, it will be the first chance that Xbox One and PC gamers will be able to try the game at all; after all, the Alpha event was only available on PS4.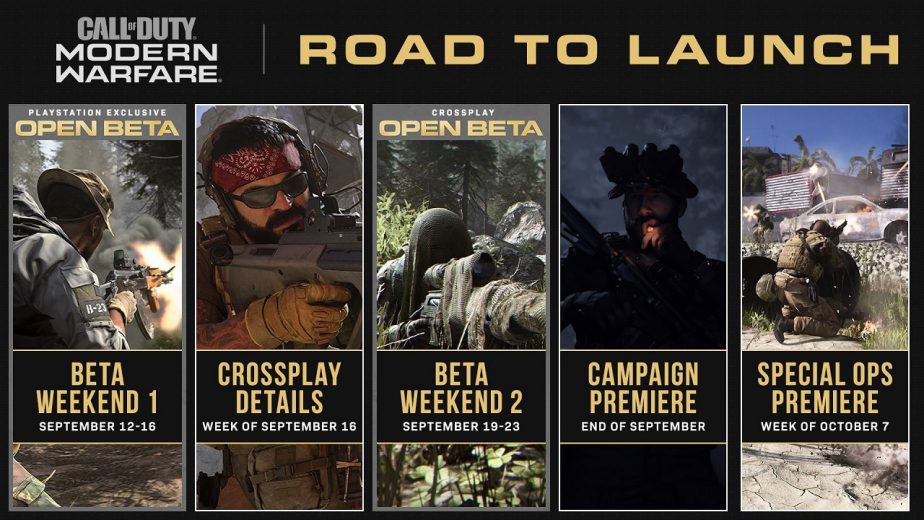 When the second Beta weekend comes to an end, there will be roughly one month until the release of the game. That does leave plenty of time for Activision to announce an extra surprise Beta, as some companies have done before. If not, there are still two planned premieres coming up. The first will be a Campaign Premiere, and will take place sometime in the last week of September. After that will be a Special Ops Premiere, which will be in the week starting October 7th.