Following the release of The Prophet and The Warlock DLC for Total War: Warhammer 2, and the conclusion of their DLC livestreams, Creative Assembly announced today what their next livestream series will be. Beginning with the livestream earlier today, Creative Assembly is returning to Total War: Three Kingdoms livestreams in order to showcase Records Mode and Cao Cao's campaign gameplay.
Total War: Three Kingdoms Livestreams to Feature Cao Cao and Records Mode
The first of these livestreams took place earlier today, shortly after the announcement. It is now available to watch on the Total War: Live YouTube channel. In keeping with their established format, the new series will span three weekly Total War: Three Kingdoms livestreams. All three will feature a single campaign playthrough. Previous series have shown off leaders like Yuan Shao and Kong Rong, for example, and this latest series will focus on Cao Cao. It is also a Records Mode playthrough; the more historical version of the game, featuring 'Extreme' unit sizes.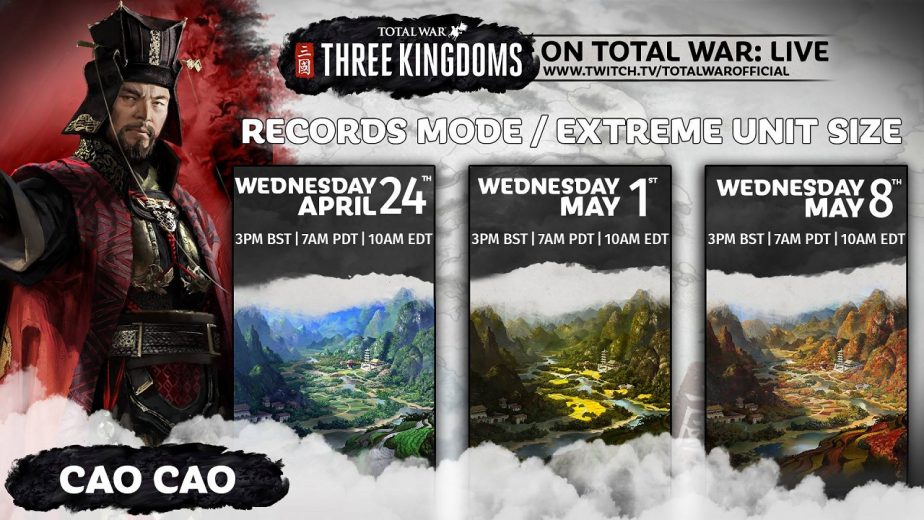 The next of the announced livestreams is scheduled to take place one week from now on the 1st of May. It will take place at 3PM BST / 7AM PDT / 10AM EST. The third and final livestream will be on Wednesday the 8th of May, at the same time. According to today's livestream, more Total War: Three Kingdoms livestreams will follow in the lead-up to the game's release. The content for those has yet to be decided. However, there is a lot of support among fans for a Dong Zhuo campaign playthrough, or a look at the Yellow Turbans DLC faction.
Total War: Three Kingdoms is due to release on the 23rd of May, following an almost two-month delay. Judging from the content in today's and previous livestreams, the extra development time certainly seems to have done the game good. In particular, several pieces of fan feedback have been implemented into the game as a result. For example, players will now be able to choose between two different sets of unit cards.