With the launch today of a new Season of Call of Duty: Modern Warfare, there is of course a new Battle Pass, complete with new cosmetics, blueprints, and weapons. While some tiers of the Modern Warfare Season 3 Battle Pass are free, those who pay for the full pass will get a bevy of extra content, including 1,300 Call of Duty Points.
The Modern Warfare Season 3 Battle Pass
Like the previous two Battle Passes, the Call of Duty: Modern Warfare Season 3 Battle Pass includes 100 tiers, all offering a different in-game item as a reward for unlocking them. These rewards range from XP and Weapon XP Tokens to Legendary and Epic Operator Skins to Call of Duty points (a total of 1,300 CoD Points are given as rewards over the course of the 100 tiers). The Pass also includes two new guns; the Renetti Handgun (at Tier 15) and SKS Marksman Rifle (at Tier 31). However, it should be noted that both of these are also available in the free tiers.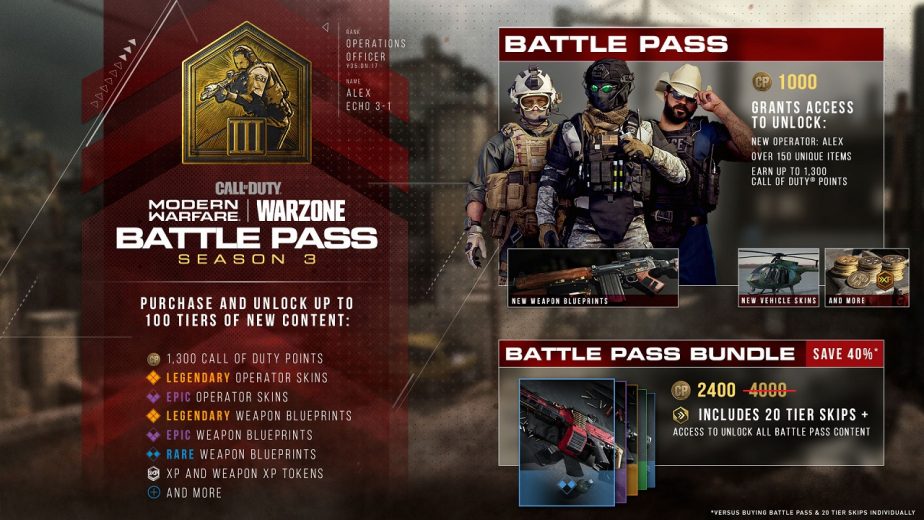 Like the Season 2 Battle Pass, you'll unlock a new Operator as soon as you purchase the new Pass. In this case, that Operator is Alex; one of the core protagonist's from Modern Warfare's story campaign. Like other Operators, he is available to play in both Modern Warfare and Warzone. You'll also unlock the "Hard Labor" Yegor Skin Set upon purchasing the Battle Pass. Note that, as per usual, you can purchase a Battle Pass Bundle which includes 20 Tier Skips. This bundle is 40% cheaper than buying the Battle Pass and 20 Tier Skips individually.
With 100 different rewards to unlock throughout Season 3, players who purchase the Battle Pass should have no shortage of new blueprints, skins, and so on. Some notable inclusions are Riley's "Top Dog" Legendary Finishing Move at Tier 20, along with the Tier 100 rewards. These capstone rewards include an Operator skin for Alex based on his appearance in the Modern Warfare campaign. Plus, you'll also earn a custom blueprint for the new SKS Marksman Rifle.