"Into the Jungle," the 6th Chapter of Battlefield 5's Tides of War, and the first of 2020, will be launching at the start of February. Alongside the new Solomon Islands map, the Chapter will feature a range of new weapons and gadgets, all of which will be available as Chapter Rewards. In fact, for the first time, DICE will be making an Elite available as a Chapter Reward too. While Chapter 6 itself is free, players looking for a head-start of sorts can get the Battlefield 5 Chapter 6 Premium Booster Pack.
The Battlefield 5 Chapter 6 Premium Booster Pack
The main selling point of the Battlefield 5 Chapter 6 Premium Booster Pack is that it will help to jump-start progress through the Chapter 6 Chapter Ranks. It includes a 20% Chapter XP Boost, and also features six Tier Catch-Ups, helping players to speed up their progression somewhat. Indeed, this could be ideal for fans who don't have as much time to play the new Chapter as they would like. As an extra boost, the Pack contains 3 Special Assignments and 2,000 Battlefield Currency.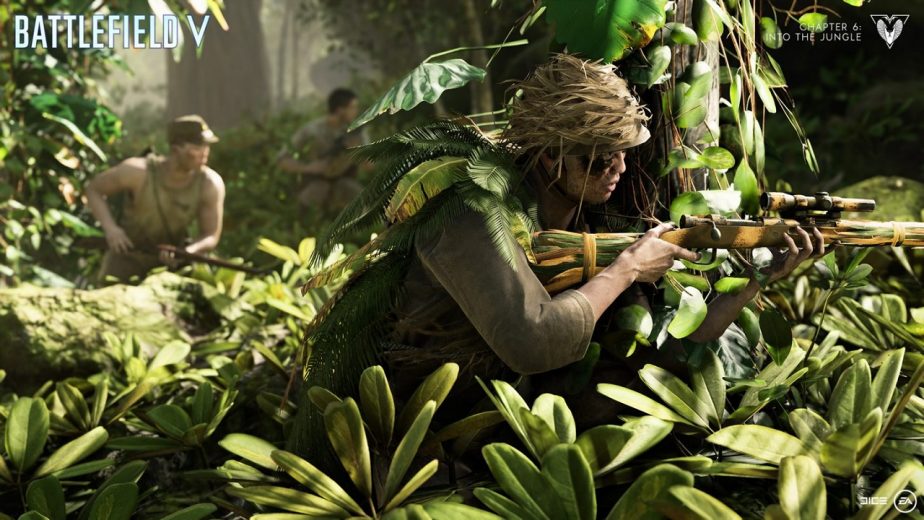 Of course, the Pack also includes a variety of cosmetics as a bonus for purchasers as well. First of all, it includes two new Epic soldier outfits. The Overlord outfit can be worn by U.S. soldiers, while the Homeland Guardian outfit is wearable by Japanese soldiers. Furthermore, the Pack includes the 'Spectacle' paint job for the Corsair aircraft, as well as the Gilded Epic Weapon Skin for the M1 Garand, M3 Grease Gun, Type 97, and Type 99 Arasaka.
The Battlefield 5 Chapter 6 Premium Booster Pack will be available to purchase in the in-game store once Into the Jungle releases. The new Chapter will be launching on the 6th of February. Of course, all the core Chapter 6 content will be free for all players; the Booster Pack is purely an optional extra.