Arras is one of the most distinct of the eight Battlefield 5 maps which will feature in the game at launch. In a similar manner to the Rotterdam map, albeit in a rural setting, this map includes a colour palette which isn't found in many of the other maps like Twisted Steel, Hamada, or even Narvik. The yellow fields of French countryside are no less war-torn, however,
Battlefield 5 Maps: Arras
Alongside Twisted Steel, Arras completes the pair of maps which depict battlefields from during the German invasion of France. The map is specifically inspired by a battle which took place in 1940 near Arras, a French rural town; "In this rural area," says DICE; "you'll see shades of the Soissons map from Battlefield 1 or even Harvest Day from Battlefield: Bad Company. The environments are beautiful, but don't stare too long at the magnificent yellows of the canola fields – enemy tanks or snipers may pick you off."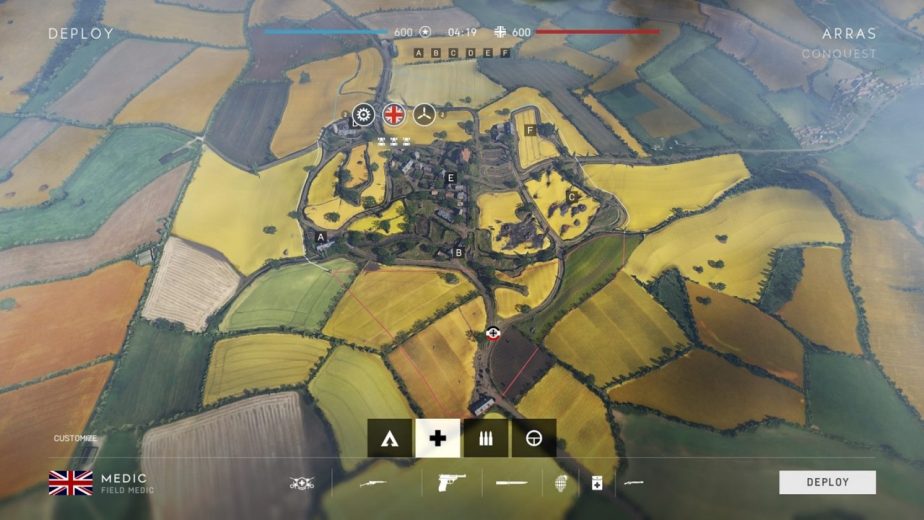 Given an overview for the Conquest game mode, DICE notes that the map includes all three unit types; infantry, tanks, and aircraft. Its size is "Medium-Large," while its tempo is "Moderate"; the map is available for the Breakthrough, Conquest, Domination, Final Stand, Frontlines, and Team Deathmatch game modes. It is also the setting for days 3 and 4 of the Fall of France Grand Operation, following days 1 and 2 in Twisted Steel.
"Arras is about all-out warfare," explains DICE; "meaning everybody will have a place and a chance to shine with their personal playstyle. There are open areas where tanks and planes will prefer to fight, but also hectic, infantry-friendly zones like the centre of the map, where snipers can take advantage of the bird's-eye view made possible by the church, the map's highest point. For this setting (and for Battlefield 5 in general) we've got a killer tip: build Fortifications. On open fields, they give you the option to build trenches, which will be a much wiser way to get around than exposing yourself like a sitting duck. On top of creating new routes, Fortifications can block routes for the enemy, too."