As the release schedule continues for Wild Appalachia, the latest piece of new content for Fallout 76 is now available in-game; a new Fallout 76 dungeon called The Burrows. Located in the sewers beneath Harpers Ferry, the dungeon has its own story quest called 'Waste Management'.
The Burrows: The New Fallout 76 Dungeon
The Burrows is the latest piece of new content for Wild Appalachia, the ongoing release schedule for post-launch content. (And the first of three such release schedules, with two more coming later this year.) It follows the launch of new brewing mechanics, the Survival Mode Beta, new quests, and the Fasnacht Parade event. Initially, an in-game Camera item was meant to release today as well. However, it was recently delayed to a patch coming later this month.
Today's update includes the new PvE Burrows dungeon. Players can start the new Waste Management quest when they access the sewers through one of the entrances in Harpers Ferry. Inside, they'll find the body of a Brotherhood of Steel scribe which will start the quest. Although the Waste Management quest itself is not a repeatable quest, the Burrows dungeon can be tackled as many times as players want. Some footage of this dungeon featured in the Wild Appalachia DLC trailer.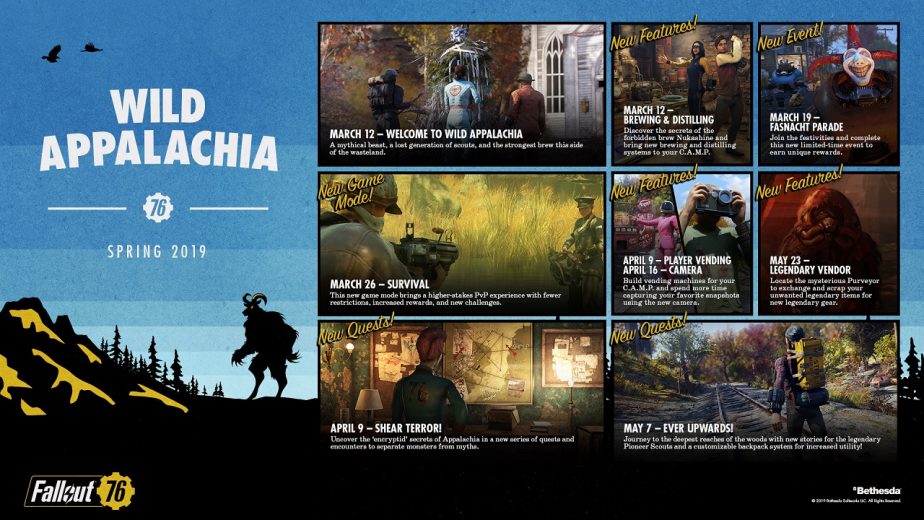 With the Burrows now available, once the Camera arrives on the 23rd of April, the Wild Appalachia content for April will be done. However, Bethesda has two more content releases coming in May to finish off the DLC. Firstly, the 'Ever Upwards!' pack will add a customisable backpack, a new faction, and new quests. Then, on the 23rd of May, the studio will add The Purveyor to the game; a new unique vendor who can buy and sell legendary gear. After that, fans will presumably have to wait until the summer for the next big content release, when Bethesda starts the Nuclear Winter content release event.