When Apex Legends launched back in February, before skyrocketing to the forefront of sites like Twitch, many suggested that it could prove to be a serious rival to Fortnite. With the latest Q1 2019 streaming industry report now available from StreamLabs, we can now see what the trends really show. As it turns out, Apex's presence on Twitch has declined sharply since February, dropping well below the Fortnite Twitch viewership. Although Fortnite is, in general, losing views quarter-by-quarter, it's hard to tell exactly how much impact Apex has really had.
Fortnite Twitch Viewership Has Been Slowly Declining for Months
In StreamLabs' Q1 2019 report, the company looks at the top 5 publishers on Twitch; Blizzard Entertainment, Riot Games, Valve, Epic Games, PUBG Corporation, and Activision. Overall, Q1 was a good quarter for Riot Games and Valve, but none of the others. Both PUBG and Blizzard have been declining since Q3 of 2018. Meanwhile, Activision saw a steep drop from its peak in Q4 of 2018. However, when it comes to Epic Games, the studio's hours watched figure has been declining since Q2 of 2018. Although it has remained in the #1 spot throughout that time, it is now only barely ahead of Riot Games. Indeed, if trends continue, then Riot may well overtake Epic for the first time in a year.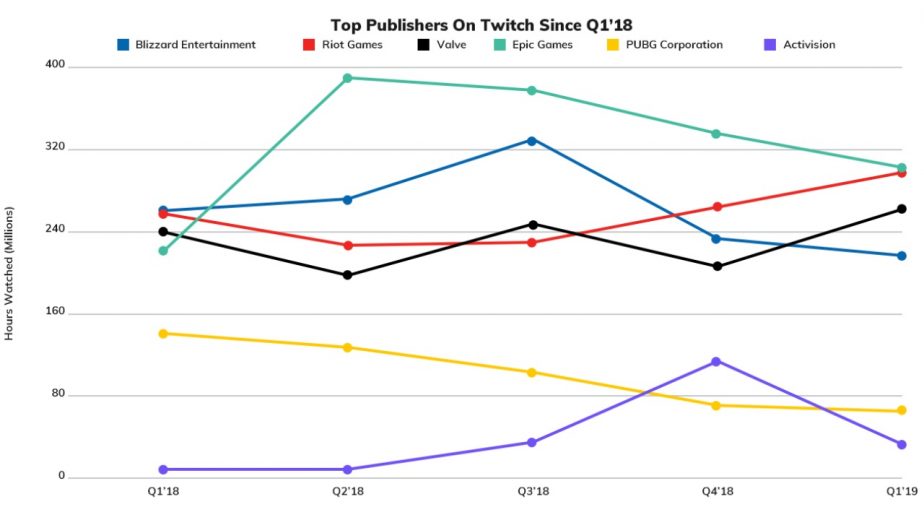 It's interesting to note the level of decline quarter by quarter for Epic. After their explosive peak in Q2 of 2018, the studio has been losing hours watched on Twitch. In fact, the rate of decline through Q1 of 2019 is almost identical to that in Q4 of 2018; roughly 9% in the latest quarter. Ultimately, it's difficult to tell exactly what impact Apex Legends' launch had on this figure. Fortnite certainly saw a viewership drop in February, for example, but quickly recovered. It's possible that, had Apex not come out, then the decline in views might have slowed down in Q1 instead of remaining consistent.
Looking purely at Fortnite, the game peaked in Q2 of 2018 with 391.6 million hours watched. That figure then fell to 379.8 million in Q3, 337.3 million in Q4, and now 304.6 million in Q1 2019. Apex Legends, meanwhile, was the third most watched game on Twitch in Q1, with 180 million hours watched. It was also the second most streamed game, with 9 million hours compared to Fortnite's 23.9 million hours.
There's no doubt that Fortnite lost views to Apex Legends in Q1. However, the trends suggest that Apex's active audience has already fallen to well below Fortnite's. Unless it can generate another surge in interest in Q2, it likely won't prove to be the challenger to Fortnite which some suspected that it might be at launch. However, the launch of Apex has been just one factor contributing to Fortnite's gradual, and relatively consistent, decline throughout the last nine months. Indeed, if current trends continue, it's possible that League of Legends could overtake Fortnite as the most watched game on Twitch within the next few months.