Patch 9.5 has now been released for Fallout 76, along with the Project Paradise event, and Bethesda has confirmed that Wild Appalachia has come to an end. The Fallout 76 Wild Appalachia release has spanned weeks of updates and free DLC releases, and is the first of three such periods planned for the game. Indeed, with the first now over, fans will be hearing about the next relatively at E3.
Fallout 76 Wild Appalachia is Now Over
Bethesda confirmed that the Fallout 76 Wild Appalachia had ended in a blog post on their official website. In the post, they thanked fans for supporting the new releases; "We've had an absolute blast watching the community get their hands on new features," reads the post; "like vending machines, the Purveyor, Legendary Exchange Machines, and the Brewing system. We've fixed a ton of bugs along the way, and we couldn't have done it without your feedback and reports. We hope you'll keep sending your thoughts our way so that we can continue rolling out fixes and making improvements that will make a difference in your everyday play."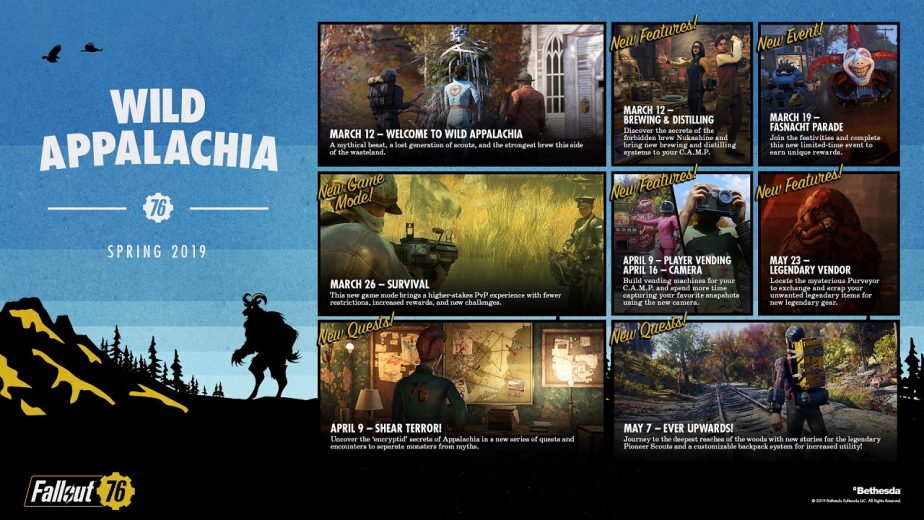 Prior to the start of Wild Appalachia, Bethesda announced that the next two post-launch content phases will be 'Nuclear Winter,' and 'Wastelanders'. At present, relatively little is known about either of these. Indeed, further on in the post, Bethesda confirms that fans will hear more about these at their E3 showcase. The Bethesda E3 Showcase will be at 5:30 PM PST on the 9th of June. The live E3 event will be live-streamed on Twitch, YouTube, Mixer, Facebook Live, and Twitter, on Bethesda's various channels.
In the meantime, however, Bethesda says that they will be continuing to release patches for the game. Additionally, the studio is planning to make some changes to their Inside the Vault blog based on recent fan feedback. For instance, they plan on including more thoughts from the game's development team about changes, as well as; "deeper insights into some of the existing features and systems in Fallout 76."