With NBA 2K22 MyTeam, you can build an elite squad consisting of great players from the past and present. To do so, you'll acquire better players as you play. Luckily, there are ways to purchase them using special currencies in the game. These include the NBA 2K22 Tokens, Virtual Currency, and MT. This guide will show you how to get Token Rewards in MyTeam mode.
What are NBA 2K22 Tokens in MyTeam?
As mentioned, three types of in-game currency exist in NBA 2K22. There is 2K22's Virtual Currency (VC) which you can get more of by purchasing it, or in other ways. There are also the MT coins that you can earn in-game or the NBA 2K22 Tokens.
Tokens are shown as the small oval/rectangular-shaped gold icon in the upper right corner of your MyTeam screen. With Tokens, you can purchase MyTeam Rewards including player cards of different levels.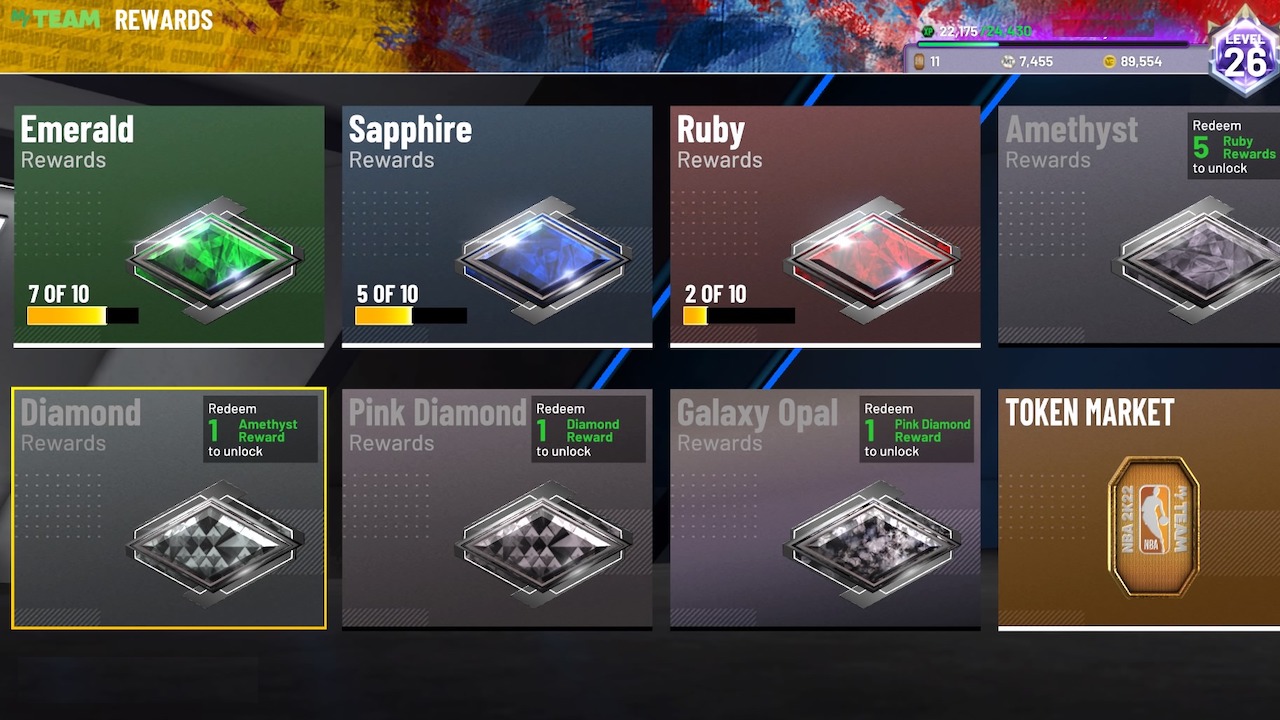 Each level at the Token Rewards store requires a different amount of Tokens to purchase those cards.
Emerald Rewards: 3 Tokens
Sapphire Rewards: 6 Tokens
Ruby Rewards: 15 Tokens
Amethyst Rewards: 30 Tokens
Diamond Rewards: 60 Tokens
Pink Diamond Rewards: 150 Tokens
Galaxy Opal Rewards: TBA
Along with the player cards, there are also packs available in the Token Market. These include injury cards, badges, and other packs including some of the MyTeam promotional series. For example, we recently saw the NBA 2K22 Signature Series packs show up.
To visit the Token Market, scroll to "Pack Market" on MyTeam's main screen and then choose "Rewards."
How to get Token Rewards in NBA 2K22
Luckily, you can acquire or earn NBA 2K22 Tokens pretty easily and with no money spent. One of the easiest ways to earn Tokens is by playing the various MyTeam games. For example, each win in MyTeam's Triple Threat Offline or Online typically rewards at least one Token. Sometimes, you'll receive additional tokens with each win.
Other game modes will award Tokens, including Domination and the Challenges. As you win games and accomplish the various Season Agendas with different players, you'll also level up. Each level brings a reward and some of them are Tokens.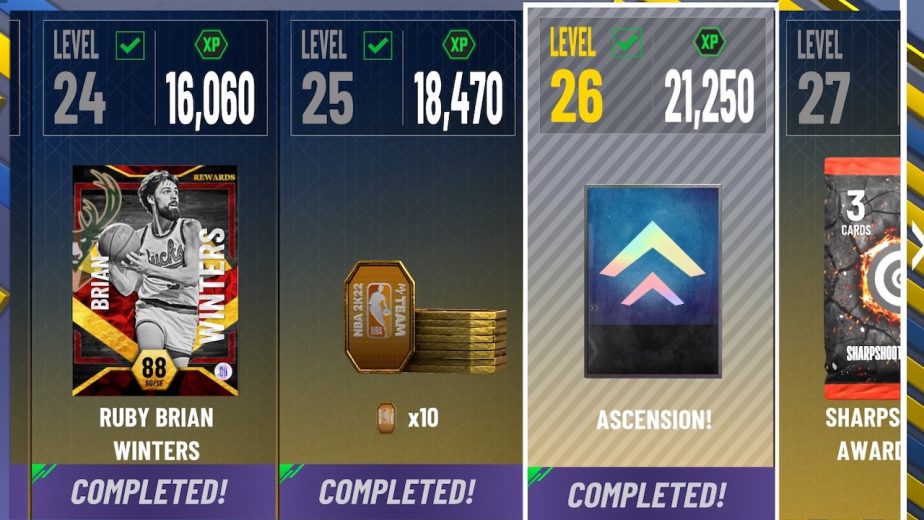 Additionally, some levels will let you play on the Ascension Board. With this game, you get to turn over different cards for rewards. There you can get NBA 2K22 MT, Tokens, and other prizes. Sometimes you'll turn over multiplier cards, which will increase your Tokens from the board even more.
Take advantage of MyTeam freebies for Tokens
There are several free aspects of MyTeam that can help you get NBA 2K22 Tokens regularly. The easiest of these is just logging into the game mode. Each day when you go into MyTeam, you'll receive a daily reward. If you log in each day of an entire week, you typically earn a free spin on a prize wheel. This can get you a high-rated player card, packs, or possibly Tokens.
The other freebies come with NBA 2K22 Locker Codes. These pop up on the 2K MyTeam Twitter quite often during the lifespan of NBA 2K games. Sometimes, special codes are given out elsewhere such as during influencers' live streams or NBA games on TV. Once you enter the code, you get to drop a ball in the pinball machine and will earn prizes including packs, player cards, and Tokens.
You can enter the Locker Codes using your controller in MyTeam. In addition, you can enter the codes using the NBA 2K22 mobile app on your phone to make it even easier.
So make sure to take advantage of the daily log-ins and entering the Locker Codes for more opportunities to add to your Tokens total. By playing games and leveling up, you'll boost your currencies, even more, allowing you to acquire and unlock some great NBA 2K22 MyTeam player cards and items!
Visit VGR's NBA 2K page for more stories about the basketball game.